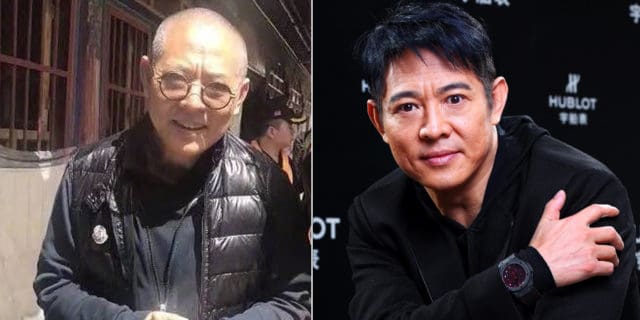 People can relax when it comes to action star and internationally known actor Jet Li, as his health is not deteriorating as quickly as many might think. One thing that a lot of folks don't seem to realize is that a picture can speak a lot louder than words and often gets taken at face value. For instance, the picture on the right up above is of Jet Li, but so is the one on the left. While he's always been seen as fit, hearty, and hale thanks to his energetic fighting style and the fact that he's constantly busy with one project or another, Li has been dealing with an issue known as hyperthyroidism since 2010 when he was first diagnosed. What this is essentially is a condition in which the thyroid gland makes more hormones than the body needs. This in turn can affect the way the body uses energy and even affect every organ in the body. It can also contribute to weight loss and fatigue, which are two symptoms that can cause a lot of people to worry about a person that is afflicted with this. It's said that only 1 in every 100 people have this condition, but Li has been adamant about the fact that he's feeling fine and has been taking prescribed medication for some time.
Dealing With Pain
He's admitted that he has been dealing with pain but has it under control, as much as possible, and suffers from occasional pains in his legs and spine from injuries and strains incurred throughout his years in action films when he performed his own stunts. But honestly and truthfully he feels fit and ready to go. Both Li and those closest to him have been heard to state that it would be nice if people would stop making something out of every little thing that comes along, and personally I happen to agree. The picture on the left up above was taken in poor lighting and no doubt used as a means of stating that Li is in poor health and won't last long. There are reasons of course why someone would bother printing such things and it's because such news sells and alerts people to the very real fact that one of their favorite action stars is continuing to age and might not last forever. Li would likely agree with people on this count since he fully agrees that he's not seemingly invincible like several of his characters, but is instead a human being just like anyone else.
Still very upbeat
But he's still upbeat about his condition, stating that he has everything well in hand and that there's no need for anyone to worry. One thing people need to realize is that Li is 55 years old and obviously isn't a young man any longer. The toll that his movies and his lifestyle, however fit he's been and however healthy he's remained, were bound to catch up to him at one point. He still feels strong and capable but the ravages of age are far more daunting than anything else since there is no medication that can stop them. But latching on to some ill-conceived story detailing how Li is apparently deteriorating right before our eyes is not only sloppy writing, it's a poor excuse for journalism that needs to be checked quickly and without reserve. Spreading scandals, lies, and falsehoods no matter the severity is not the mark of a good writer and most definitely not acceptable in the literary world. The fact that Li is so upbeat about his current condition and health could be a sign that he's trying to hide something that he doesn't want people knowing about, but it could also be due to the fact that he's got everything handled and doesn't need people freaking out about whether he's going to pass away soon or not.
Still extremely busy
Just look at all that Li has done since his time in the film Once Upon a Time in China. He's become a world-renowned action star in several different countries and has managed to kick some serious butt across the globe. In Kiss of the Dragon he took on an entire police force and suffered only a single gunshot wound and a few scrapes and bruises. In Romeo Must Die he got a little more messed up since his former friend kicked a burning hot brazier at him, which prompted Li to stop it with both hands and burn them horribly. Of course these are special effects and not at all real but this is just a sampling of how awesome the guy has been on film. But all that action and all that stardom have definitely taken a toll on him throughout the years. It's been rumored that he's in talks to play the part of the emperor of China in the live-action version of Mulan that's supposed to be coming out in 2020, so that could be a nice change of pace. But in terms of his health, people need to lighten up.