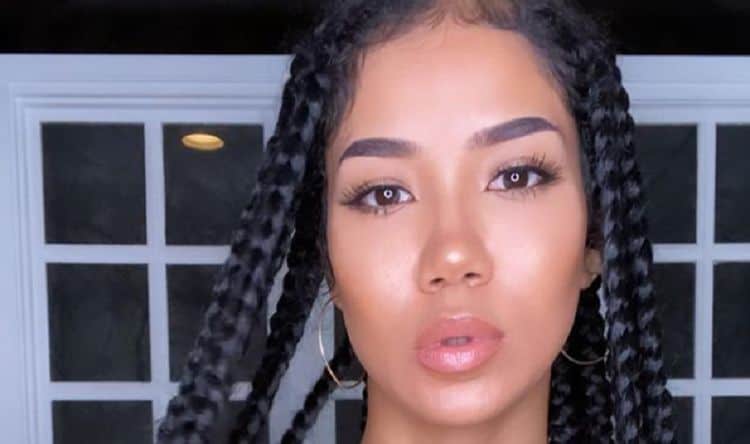 Jhené Aiko is an American musician best known for her hits Souled Out (2014), Trip (2017) and the 2016 collaboration with Big Sean, Twenty88. Despite her relatively short career, Aiko has already achieved massive success, scoping up multiple nominations (including 3 Grammy's and a BET Centric Award in 2014), along with worldwide acclaim. Critics have called her the "female Frank Ocean", while others have compared her vocal stylings to those of Brandy, Ciara and Aaliyah. Whether or not you agree, you can't help but be impressed by the success of the enterprising star. Read on to discover 10 things you may not know about the talented artist.
1. She was homeschooled
Aiko was born in Ladera Heights, California to parents Christina Yamomoto and Karamoto Chilomobo. Aiko has a mixed heritage: her mother is of Spanish, Dominican and Japanese descent, while her father is of Native American, African American, German and Jewish origins. Aiko was home-schooled until high school, but that didn't deter her from an active social life: "I had friends who were social so I'd just wait for them to get out of school then do all the regular kid's stuff," she's revealed. Aiko would later study at community college, and loved the educational experience, claiming "I like learning and the environment where you're around other people that are learning and reading."
2. She took vocal lessons
As a lover of music from a young age, Aiko attempted to better her chances of a successful career as a recording artist by signing up to vocal lessons in Culver City, California. Aiko naturally shone at the lessons, but fate took an unexpected turn when she unexpectedly fell pregnant. Aiko felt unable to continue the lessons and quit. Of course, ending the lessons hasn't held her back, and her subsequent success just goes to show that natural talent will always find a way.
3. She's a mother
Aiko fell pregnant at 19, and a year later, gave birth to her baby daughter, Namiko Love Browner. Aiko has done nothing if not proven that having children at a young age is no barrier to success. She's even performed with Namiko on several occasions, including as part of VH1's Mother's Day special, Dear Mama: A Love Letter to Moms. During the performance, the mother-daughter team put their close bond on display during a rendition of "Sing to Me", a track from Aiko's second studio album, Trip. Amongst the thrilled audience where Ne-Yo, Jessie J, and the legendary Patti La Belle.
4. She's not really Lil' Fizz's cousin
Aiko started her career by providing backing vocals to R&B group B2K. Her presence in the group was explained by the fact that she was band-member's Lil' Fizz's "cousin". In fact, Aiko and Lil' Fizz are not remotely related: the relationship was invented as a clever marketing play, initiated by Sony and Epic Records, to help fans welcome Aiko into the B2K fold.
5. She's appeared in music videos for various artists
Before launching her own hugely successful music career, Aiko appeared in numerous music videos for other artists, including R&B singer O'Ryan's debut release, Take It Slow, B2K's Uh Huh and Why I Love You, girl group P.Y.T's Same Ol' Same Ol', and Morgan Smith's Blow Ya Whistle. She's also lent her vocal talents to numerous soundtracks, including Barbershop, You Got Served and Byou.
6. She once dated O'Ryan
Aiko didn't just appear on R&B singer O'Ryan's debut music video for Take It Slow, she dated him as well. The pair started dating in 2005 and remained together until 2008. The relationship went beyond your typical youthful romance, however: in 2008, O'Ryan fathered Aiko's first child, Namiko. Despite O'Ryan being the most well-known of the two when they first paired up, Aiko has subsequently taken the lead in the career stakes, with O'Ryan failing to release any new offerings since the 2010 single, America's most Wanted (https://en.wikipedia.org/wiki/O%27Ryan).
7. She's divorced
Following her doomed romance with O'Ryan, Aiko embarked on a serious of ill-fated romances. In March 2016, it was reveled that Aiko had married DJ and record producer, Oladipo "Dot da Genius" Omishore. The confirmation came after months of speculation about the pair's relationship. The couple declared their new status on Instagram, with Omishore messaging "Happy Birthday to my gorgeous wife. Happy to be on this quest w/ you!!!" Unfortunately, the relationship was not to last, and in August 2016, Aiko filed divorce proceedings against Omishore, citing irreconcilable differences. Further to her divorce, Aiko started a relationship with Big Sean, but failed to get her happily ever after with the rapper when the two spit in March 2019.
8. She's suffered tragedy
Despite her youth, Aiko has seen her fair share of tragedy. On July 18, 2012, Aiko recorded the emotional track "For My Brother" for her 26-year-old sibling, Miyagi. Unfortunately, the track would be one of the last Miyagi would ever hear: shortly after its recording, Miyagi would lose his 2-year battle with cancer. Aiko originally intended the track to be heard by her brother only, but after his demise, decided to release it to a larger audience, explaining, "I wrote and recorded this myself on my lap top, for my brother…. Miyagi . This song was really just intended for him to hear….. but I thought it would be nice to share".
9. She's inspired by her daughter
Rather than letting her career take a backseat to her parenting duties, Aiko feels that the presence of her daughter has actually inspired her to greater success. "She gave me the focus, the drive and the urgency to get something done," she told Complex. "I have always been about getting work done but with a child, something needs to happen and she just put more passion as far as what I wanted to do with my music, what I wanted to sing about and my message."
10. Tupac is a major influence
Rapping legend Tupac has been a major source of inspiration for Aiko, who credits him with giving her the strength to stick to her guns and always voice her opinions, no matter how controversial they may be. Other influences include R&B songstress, Aaliya, hip-hop artist Eminem, singer-songwriter John Mayer and rapper and songwriter Kendrick Lamar. Of all the artists she listens to and is inspired by, it's Kid Cudi she returns to most. Aiko shared her love of the rapper by revealing to Rap-Up TV, "No matter what he puts out, I'm one of those fans. He can do no wrong in my eyes."