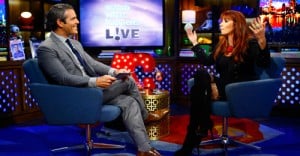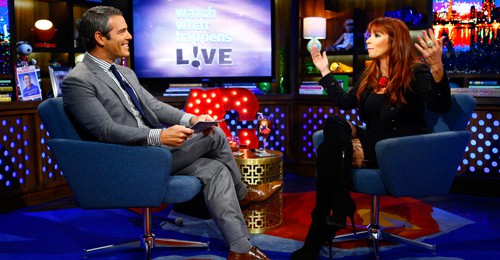 Oh. My. God. That was just insane!
While most people were still feeling a little ho-hum over the second part of The Real Housewives of New York City's reunion tonight, the Twitterverse and other sites lit up when Jill Zarin stepped back into the spotlight for a Watch What Happens Live! 1-1 Special with Andy Cohen. Zarin returned to put Cohen and Bravo on the hot seat, letting both factions know just how she really felt about being abruptly fired from the show and nothing was left off the table. You could even call the interview "Jill Zarin Unplugged" if the Queen of Zarin Farbics wasn't always plugged into her own, and only her own, universe. So what spilled out of Jill's mouth unto Andy's ill prepared lap? Here are the top WTF moments of the night that will have Anti-Jill Zarin bloggers cackling into the wee hours of tomorrow morning.
Why Was She Fired? Her Question to Andy Cohen, Not Mine.
Andy started off the night by professionally asking Jill what was her reaction to Ramona Singer, LuAnn de Lesseps, and Sonja Morgan being asked back to RHONY over herself. "You mean that I was fired?" Jill shot back without thinking twice and setting the tone for the night. Ding, ding. The gloves came off and Jill went into overdrive with her 'I was wronged, Andy!' campaign.
Jill then asked Andy why exactly was she fired, which the Bravo ringleader explained was a three-way decision between the viewers, the producers, and Bravo/Cohen himself on how to change the show after such a "toxic" 4th season. After hearing Andy's reasoning, Jill answered that her firing from RHONY felt like a "death" and that she felt the network (and Cohen) picked favorites in the Bethenny Frankel vs. Jill battle. Then after explaining her reaction, Jill asked Andy if he thought he made a bad decision on cutting her, Alex, and Kelly, since the revamped RHONY "didn't rate well without us." No lie. She actually went there.
Jill made sure to include how much her life was interesting, just how much she actually gets along with Ramona and Alex McCord, and how the fans miss her family being on the show. In short, she was basically reapplying to be on the show and looked desperate as hell doing it.
Andy Cohen Was Way Over His Head With This Interview. And We Loved It.
There were plenty of instances where Andy Cohen looked as if he wanted to press a rewind button and run clear out the studio, second guessing the interview along the way. But while Cohen looked hella uncomfortable during Jill Zarin's many diatribes, it was clear that he knew when to throw shade and when to tread lightly with Jill's feelings. Plenty of times during the night, Andy's face read: "Listen you jealous deranged! I will end your ass all over again if you try me" and I really wished he had of done that very thing. At the end of the night, Andy extended a handshake to Jill after the interview was over and she responded, "That's all I get is a handshake after five years?" Zarin, take your diss of death like a respectable has-been and move on, okay?
Jill Still Has "Bethenny"-Envy
From accusing Bravo (and Cohen) of taking Bethenny's side during their fight to claiming that her social status took a huge nosedive after Season Three of The Real Housewives of New York City (duh!), Jill was suffering from some serious "Bethenny"-envy as she dedicated an entire segment to what went wrong in her relationship with her former bestie. The most surprising tidbit about that conversation was Jill mentioning how she told Andy the summer before the third season began filming that her beef with Bethenny would make for good TV. In other words, Jill used her tiff with Bethenny as a means to bring the drama, but she shot herself in the foot in the process.
Also, Jill whined about how Bethenny never forgave her for declaring their friendship being done and void, and didn't get how Bethenny could forgive her husband Jason when they said it to each other and not Jill. After that mess came out of Jill's mouth, I believe there was a collective pause among the nation before everyone yelled at the screen, along with Andy Cohen, that Jason is Bethenny's husband, meaning the same rules don't apply in that scenario. Jill argued how Andy didn't get it, but in reality, she didn't get just how much of an idiot she sounded at that point… or the entire night for that matter.
Bethenny Was Responsible For Aviva?!?!
While Jill maintained a little of her mean girl stance, the one thing that made me drop my dinner on the floor was Andy revealing that it was actually Bethenny Frankel who had suggested Aviva Drescher for not only this season of The Real Housewives of New York City, but last season as well! Bethenney, you know you were wrong for that and I wonder if you are having second thoughts about this as well.
Bottom Line: Jill Zarin Came Off As If She Was Reapplying To The Real Housewives of New York City
As I said on Twitter earlier, Jill Zarin was the Eddie Kane of the Real Housewives franchise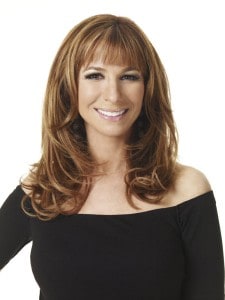 last night as she did her damnedest to convince Andy Cohen and Bravo that they made a terrible mistake by letting her go, despite the "toxic" baggage she was carrying. The plea fell on deaf ears and America, despite what Jill may think, has already moved on to the crazy that is Aviva Drescher, who Jill actually endorsed tonight and felt was being treated unfairly by the cast. But if Bravo even did have an inkling of a thought to bring Jill Zarin back to the network in any capacity, she's ruined that chance in this unfiltered interview with Cohen, who needs to crank out more 1-on-1's with other post Bravolebrities.
Other Moments To Gasp At:
– Jill threw a nice amount of shade to former bestie LuAnn de Lesseps by claiming how the Countess's tryst with Tomas the pirate was a move to stay relevant on the show. At least Jill got something right that we agreed on.
– After Andy asked her if she missed the spotlight, Jill quickly corrected Andy on how she never left the spotlight and had done guest segments on Good Morning, America this summer, but that she hopes those segments return in some capacity. Does that mean the guest segments are a bust too?
Line of the Night:Â "You can't replace me, Andy…" – Jill, channeling her inner Glenn Close from Fatal Attraction. I literally got chills and feared for Andy Cohen's soul.
Finally, the recap/review does not do the actual interview itself justice. You must watch it, dissect it, make your own assumptions, and balk at the narcissism that is Jill Zarin. Despite Jill making great TV tonight, the interview was still beyond belief. For those of you who did catch it, what did you think?
Photo Credit: BravoTV.com