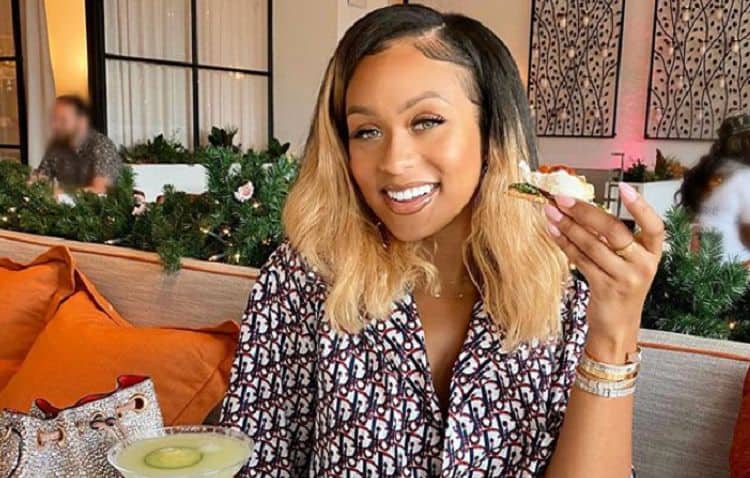 In the beginning of 2020 when news broke that NFL star, Deshaun Watson was in a relationship, the internet quickly wanted to know everything about his new boo. In the months since, Jilly Anais, whose real name is Jillyan Moor, has been getting lots of attention. Although some people know her best for her relationship to Watson, Jilly is actually no stranger to the spotlight. The popular Instagram influencer has over two million subscribers and much of her fan base has been rocking with her since long before she and Watson got together. Even though it's easy to look at Jilly and think she's nothing more than an Instagram model, there's actually a lot more to her than that. Keep reading for 10 things you didn't know about Jilly Anais.
1. She's A Brand Ambassador For Savage X Fenty
Working with Rihanna in any capacity would be a dream come true for lots of people. For Jilly Anais, it's reality. She is currently a brand ambassador for Rihanna's popular Savage X Fenty lingerie brand. Not only does she post pictures of herself wearing items, but she also goes into detail about different pieces.
2. She Is An Aspiring Actress
Social media is what has gotten Jilly the most attention, but that isn't the only places she's been working to make a name for herself. She is also an aspiring actress who has landed a handful of acting roles over the years. According to her IMDB page, she has four acting credits, including one for a role in the Hulu series, East Los High.
3. She's A Houston Native
Houston, TX is well-known for being the birth place of some very talented people – most notably, Beyonce. Jilly was born and raised in the city and is very proud of her Texas roots. However, she relocated to Los Angeles several years ago to pursue her career.
4. She Met Dashaun At Hot Yoga
Who doesn't love a cute love story? Deshaun and Jilly's first time meeting is exactly that. Although the two had been following each other on social media before meeting IRL, they met in person for the first time at a 7am hot yoga class. The two got to know each other and became friends before deciding to date.
5. She Makes Music
If you thought Jilly's only talent was posing for pictures on Instagram, it's time to think again. She is also a talented musician who has been trying to build a music career. In 2015, she released her debut EP, The Juice. In 2018, she released a single called "Wait For It".
6. Deshaun Isn't The First Professional Athlete She's Dated
Deshaun Watson isn't the first professional athlete Jilly has been linked to. Prior to this relationship, she dated NBA player, Dejounte Murray. The couple had a very messy breakup which resulted in Murray calling Jilly a "gold digger". Jilly quickly responded to defend her character and she made it very clear that she can take care of herself.
7. She Was A Competitive Cheerleader
Jilly is definitely full of surprises. Long before she became a social media sensation, Jilly was doing her thing in the cheerleading world. Not only was she a member of her high school cheerleading squad, but she was also a competitive cheerleader and dancer for five years. Prior to her time as a cheerleader, Jilly was also a member of the track and field team in middle school.
8. She Was A Pageant Girl
Jilly's list of accomplishments is much longer than many people realize. In 2011, she entered her first beauty pageant and went home with the crown as Miss Teen Houston. Although she initially planned on doing other pageants in the future, we weren't able to locate any information suggesting she competed in any others.
9. She Loves To Cook
Staying healthy and fit are two things that are very important to Jilly, but that doesn't mean that she doesn't like to eat good. Jilly spends a lot of time throwing down in the kitchen and she enjoys cooking meals for her loved ones. She loves to share photos and videos of her meals with her followers on Instagram.
10. She Comes From A Close Family
There's a popular misconception that people who behave a certain way on social media come from broken homes. Not only is that stereotype ridiculous, but it couldn't be any further from the truth for a lot of people including Jilly Anais. She comes from a very close knit family and has a great relationship with her parents and her brother.