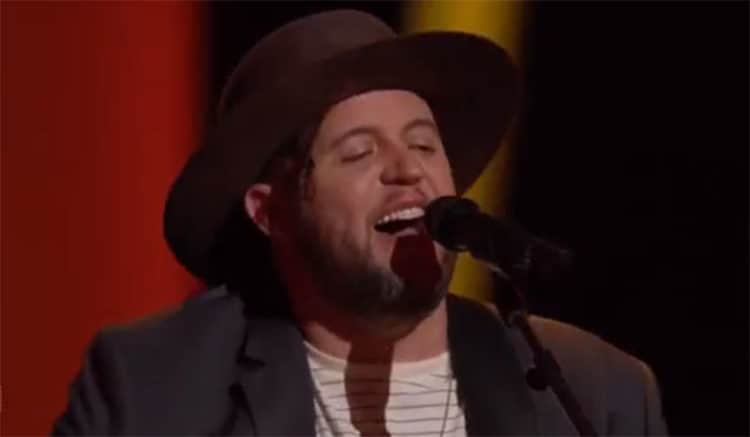 Competing on The Voice can be a life changing experience for a musician, and that's exactly what Jim Ranger is hoping the show will be for him. And so far, things are looking good. His performance of  "Blue Ain't Your Color" by Keith Urban got all of the judges to turn around except for Kelly. Jim quickly received lots of praise for his voice and it's evident that he has the potential to be a star. Although the competition on this season is especially fierce, Jim is ready to hold his own and many believee that he has a very good chance of making it all the way. Continue reading for 10 things you didn't know about The Voice contestant Jim Ranger.
1. He Started Singing At 4-Years-Old
Music has been a huge part of Jim's life for almost as long as he can remember. He started singing when he was 4-years-old and started playing the guitar when he was a teenager. He eventually started writing his own songs and realized that music was a part of his calling.
2. He Spent A Lot Of His Childhood Traveling
Jim may have spent most of his life in Bakersfield, but he had a very interesting childhood. He was born and Arkansas and spent several years traveling around the country with his family in an RV. While this may sound like a very unconventional way to grow up, it allowed Jim to have lots of cool experiences.
3. He's A Father
Family has always been one of the most important things in Jim's life. When he was 20-years-old, he married the love of his life Camila. The couple now has three children together and Jim enjoys being able to spend time with them and teach them all sorts of different things.
4. His Faith Is Very Important To Him
Jim grew up in a very religious household and continues to practice his faith today. In fact, his father is a pastor and Jim is currently a worship leader at his father's church, New Life Church in Bakersfield. Jim keeps God at the center of everything he does and will likely lean on his faith a lot to get him through the competition.
5. He Doesn't Have A Big Social Media Presence
Unlike other people who are competing on this season of The Voice, Jim doesn't have a lot of professional music experience. With that being said, he also doesn't have a large social media following. Although he is pretty active on Instagram, most of his content is about his personal life and doesn't really promote the fact that he is a talented singer.
6. He Loves Spending Time Outdoors
God, family, and music aren't the only thing Jim loves. He is also an outdoor kind of guy who really loves spending time enjoying the beauty of nature. When he isn't working at the church or singing, you can probably catch him doing something outside. He likes to do a variety of outdoor activities including fishing, boating, swimming, and hiking.
7. He Auditioned For American Idol In The Past
The Voice isn't Jim's first attempt at a singing competition show. He auditioned for American Idol in 2010. He performed an original song — which judges don't seem to like —  and judges were so impressed by his voice and song that he earned a golden ticket to the Hollywood round.
8. He's A Sports Fans
Jim is a big sports fan who seems to especially love basketball. Not only is he very involved with his children's sports, but he's also a big fan of the Lakers and LeBron James. As you can imagine, Jim was probably feeling good when the Lakers won the 2020 NBA National Championship.
9. He Hopes To Show People It's Never Too Late To Follow Your Dreams
At 38-years-old, there are probably lots of people out there who feel like Jim is too old to start pursuing a career as a professional musician. After all, the entertainment industry as a whole is obsessed with youth and opportunities usually get harder to come by as people age. Still, he hopes to prove (especially to his children) that it's never too late to chase your dreams.
10. He Likes To Travel
Thanks to his childhood, Jim was exposed to traveling at a very young age and it continues to be something he enjoys doing. Whether it be a quick trip within the United States or an international adventure, Jim loves the experience of visiting different places. Some of the places he's been include Jerusalem and Hawaii.