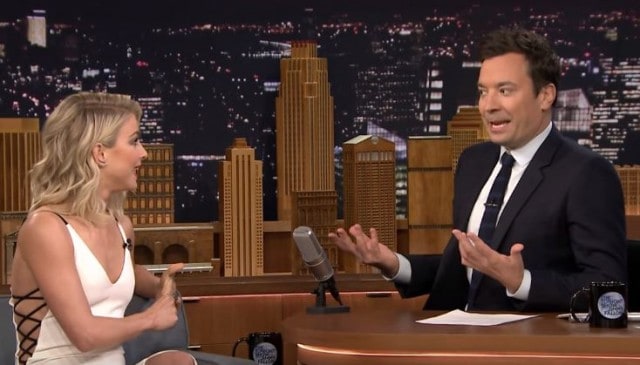 Everyone who watches The Tonight Show knows that Jimmy Fallon is pretty darn good at impressions, whether they're musical or not. However, I think the jury's still out on whether his impersonation of Danny Zuko from last night's Tonight Show is actually good or just really funny.
Fallon did his best to channel the famous film character during his interview with Julianne Hough, who stars as Sandy in FOX's upcoming Grease: Live, the network's first live musical production, which comes after the success of NBC's live versions of The Sound of Music, Peter Pan, and, most recently, The Wiz.
In the interview, Hough tells Fallon how Graceland alum and Les Miserables star will be playing Danny in Grease: Live, and Fallon jokingly responds as Danny, guessing that "they like didn't get my audition tape or something, right?" Fallon then continues on with his Danny impression for another thirty seconds or so, even pretending to comb his hair like the iconic character.
"You're pretty great," Hough tells him. "You look like you're still in high school."
"You have to get your eyes checked," Fallon responds, laughing. "I've told you this before."
Check out the video below to see Jimmy Fallon do his best version of Danny Zuko, and let us know in the comments what you think of his impression. Was it good, or does it need some work?
[Photo via YouTube]