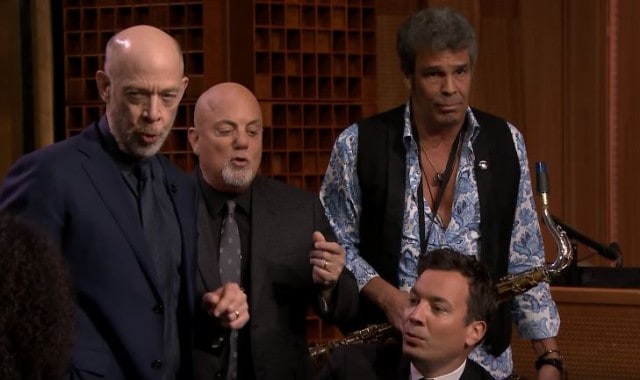 Jimmy Fallon is well-known for incorporating music into The Tonight Show in anyway that he can. From playing goofy games like Lip Sync Battle and Wheel of Musical Impressions, to performing hit songs with artists using classroom instruments, to just recently bringing the Star Wars: The Force Awakens cast together to do an a cappella version of the franchise's theme song, Fallon is always looking for fun, creative ways to sing a tune or play an instrument. And that is why it should be no surprise to anyone that Fallon took advantage of having music legend Billy Joel and the talented J.K. Simmons on The Tonight Show last night, as the three of them, along with some band members, performed the classic Billy Joel song, "The Longest Time."
As you can see in the video below, all three men couldn't be happier while performing together, and the looseness and relaxed nature of their performance really comes through. The best part about it, though? They all actually sound good together, although I guess that shouldn't be too surprising when you have one of the best singer-songwriter's in the world singing with you.
Watch Jimmy Fallon, J.K. Simmons, and Billy Joel having a blast while performing "The Longest Time" in the video below.
[Photo via YouTube]