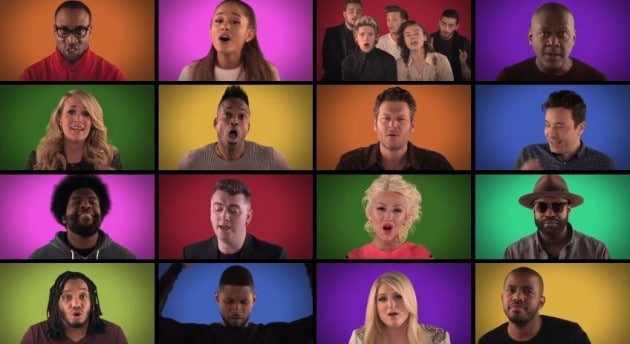 Whatever your opinion is of Jimmy Fallon and what he's done with The Tonight Show since became host (for the record, I'm a fan), there's one thing you can't deny: the guy knows how to bring out the big names. And since last night was the biggest sporting event of the year, the Super Bowl, just in case you didn't know, you had to expect that Fallon was going to have a great number of celebrities on his special installment of The Tonight Show.
As promoted, Fallon faced off against both Kevin Hart and Will Ferrell in yet another lip sync battle, and it turned pretty much as funny as everyone thought it would be. While Hart's musical choices, John Legend's "All of Me" and Katy Perry's "Roar," didn't help him bring the laughs as much as his two competitors, he was still fun to watch.
Meanwhile, Ferrell had the audience, along with Fallon and Hart, hysterically laughing at his performances of Beyonce's "Drunk in Love" and Idina Menzel's now infamous Frozen song, "Let It Go," and Fallon lip synced his way through Kelly Clarkson's "Since U Been Gone" and had a "special guest" help him with his second number, the infamous Dirty Dancing song "(I've Had) The Time of My Life" by Bill Medley and Jennifer Warnes.
However, as great as Ferrell and Hart were, they couldn't match the star power that Jimmy Fallon gave viewers for a celebrity-filled version of Queen's "We Are the Champions." Joining Fallon and The Roots onscreen for the Brady Bunch-inspired video were Carrie Underwood, Sam Smith, Ariana Grande, Blake Shelton, One Direction, Christina Aguilera, and more.
Check out both videos below, and let us know which you thought was the best.
[Photo via YouTube]