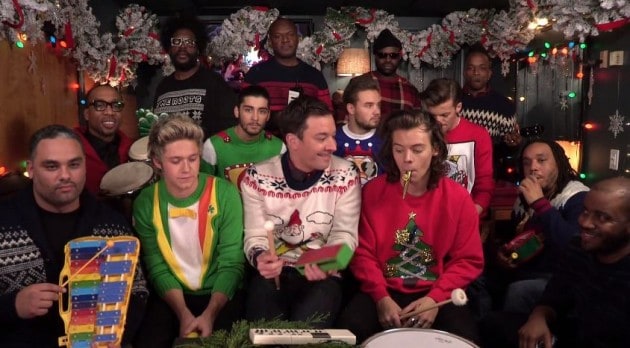 It's the holiday season, everybody, and we've only got two days until Christmas. And if for some reason you're not quite in the holiday spirit yet, don't worry: Jimmy Fallon and One Direction are here to help you. The Tonight Show host and the British boy band, who have essentially become a national treasure to every girl out there, whether they're tween, teen, or a little bit older (from girls in their twenties to moms), performed "Santa Claus Is Coming to Town" last night using children's instruments, and even though I'm not a big fan of "1D" myself, I have to admit it was a pretty charming performance.
Like the games that he features on the late night talker, such as Lip Sync Battle or Box of Lies, performing renditions of songs using children's instruments has become another staple of The Tonight Show since Fallon began hosting. He's done everything from "Call Me Maybe" with Carly Rae Jepsen to "All About That Bass" with Meghan Trainor, and if you're looking for more Christmas tunes, Fallon got Mariah Carey to come on for an incredibly fun performance of "All I Want for Christmas Is You," which featured some young kids who entirely stole the show.
However, if I had to choose one favorite of them all, it'd have to be Fallon and Idina Menzel's performance of "Let It Go." I know it's been over a year since Frozen came out and that the song has been overplayed constantly, but I still never find myself tiring of it (and I may or may not be listening to the Glee version of it right now as I write this article).
Check out the performance of "Santa Claus Is Coming to Town" below, and let us know which band or performer you want to see next on The Tonight Show Starring Jimmy Fallon.
Photo via YouTube