Survivor has never had a "famous" person or celebrity on the show before. Sure, former NFL-player Gary Hogeboom was on, but only hardcore football fans knew who he was. Jimmy Johnson, on the other hand, is a bona fide celebrity. As a two-time Super Bowl-winning coach, national college championship-winning coach, star college football player and analyst for the most popular weekly NFL pregame show, Jimmy is by far the most well-known player to ever play the game. As a result, Survivor is taking every opportunity it has to use his fame to promote the show (something particularly useful for a show in it's 21st season). On Thursday, I participated in a conference call with Jimmy as he discussed Survivor, football, arterial stents, his hair, and everything in between. While his answers typically cryptic (contestants aren't allowed to say anything that could give away results of the game), I do think I was able to glean some information that just might influence my Odds to Win.
Jimmy was first asked about the multiple times he applied to play Survivor. As a big fan of the show (really, one of the very few TV shows he actually watches), he applied about six years ago and received no response. Then, three years ago, during the Survivor: Gaboncycle, Jimmy reapplied and made it all the way through to the final casting call. For those 48 or so applicants that reach the final stage, a physical is required. When Jimmy received the results, he was told that he had a 100% blocked artery, and a 70% blocked artery, and would not be allowed to participate. Hearing this serious health news, Jimmy had a stent put in the completely blocked artery and began a diet that ultimately saw him drop his weight and lower his cholesterol from 220 to under 100. He fully admits that Survivor saved his life. With his wife's (reluctant) blessing, he reapplied for this season and was selected.
It didn't take long for the first football question. One reporter asked which was harder: Immunity Challenges or turning the Miami Dolphins into a running team. After a chuckle, Jimmy admitted that changing the historical passing team (thanks to Dan Marino) into a running one at the end of Marino's career was much more difficult, but this answer led him to a broader point. It perhaps goes without saying, but Survivor is much more difficult than any home viewer can anticipate. Jimmy is an outdoors kind of guy, and as an avid viewer of the show and lover of the game, he had great respect for the difficulty the show presents. Still, actually participating was the hardest thing he has ever done. It wasn't so much the challenges, which he actually found easier than anticipated, but rather the complete lack of sleep. Often, contestants are only ingesting a couple hundred calories, and when water needs to be boiled before you can drink it (thereby making taking a drink an actual time-consuming process), dehydration is constantly present. Combine this with the fact that contestants are sleeping on bamboo and are frequently pounded with rain, sleep is an all-too-rare luxury. Without sleep, the body can't stay strong. Without strength, every other part of the game becomes that much more difficult.
Jimmy's favorite former Survivors are: Tom and Colby, because they played the game like he wanted to; Parvati, because she had the most challenge wins; and although he doesn't like the guy in the slightest, he has enormous respect for Russell and the type of game he played. When asked why he was obsessed with Survivor, Jimmy cited his love of the outdoors. He went on the show because of his sense of adventure. When he returned, the biggest lesson he had learned was that he needed to appreciate more the things that he, and we as Americans, have, and that which others do not. There are many people in the world that live, day-to-day, like Survivor contestants, and they sure aren't playing on a TV game show. So, we should all reflect on how fortunate we are.
This answer led to a conversation on Jimmy's strategy for the game. Of course, as a famous millionaire, he knew that he had to address his celebrity. His strategy was to be up front, and tell his tribemates that there is no way a jury is going to give him a million dollars, so his goal was to get far into the game, and make sure someone on his tribe won the money. He's not so sure that everyone believed him (maybe this was some sort of reverse psychology?), but he figured it was his best shot to stick around, especially as the oldest player this season. He continuously repeated that he was there for the adventure and love of the game, and nothing more. Further, his personal ethics led him to try to play without lying. He may have omitted the truth at points, but never outright lied.
Jimmy was asked if his celebrity made him a target, which of course it did. When it was brought up in the game, he jsut reiterated that no jury would give him the money. In fact, in some ways, Jimmy responded to one of my questions, his celebrity was an asset as players wanted to be around a famous football coach. At times when the tribe was bored or tired or frustrated, someone would say, "Jimmy, give us a football story," which he was more than happy to oblige. Jimmy said that although they were always busy with something to do, there is a great deal of boredom. So, being able to relieve that boredom or tension or whatever else may be mentally afflicting the tribe made him an asset.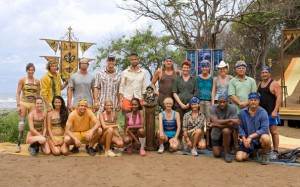 I asked Jimmy to compare how he built relationships with football players, coaches and staff to building relationships with his tribemates. Was there anything that he could pull from football and apply it to Survivor? He responded that he has a bachelor's degree in psychology, and is actually half-way through a Master's in the same subject. What he learned, and found worked in football was that each player has an individual personality, and therefore must be handled individually. It is not enough to be a disciplinarian coach or a "players'-best-friend" coach across a whole team. Some players respond better to discipline, some better to joking and friendly interactions. He took this approach to dealing with his tribe. Some contestants need a firm hand and be told what to do, some need to believe they are the ones making decisions and "leading." Further, he took the stance with both football players and his tribe that his reaction to a given individual is directly related to how that person performs. If someone gives full effort, Jimmy will respond in kind. If someone is lackadaisical, Jimmy has no time for it and will look to replace him or her. Last, Jimmy said that his past successes immediately gave him a head start in building relationships with his tribe. Since he was known to have been a winning coach, people were willing to listen to him and take his lead. This created a bit of frustration for Jimmy as he didn't want to be the named "leader" of the tribe, because he knows all too well that leaders get voted out of the game.
As I mentioned at the top of this article, Jimmy did make a few statements that I think revealed some interesting things about how he played the game and how long he stayed in it. First, when he was asked how much weight he lost during the game, Jimmy at first demurred, saying that he couldn't say (if he lost only a couple pounds, he likely got voted out early, and vice versa). He did go on to say that he lost a "significant" amount of weight, and has gained half of it back in the months since filming concluded in June. Second, he replied to a question about whether it was easy to detect alliances, that it was indeed "Easy to see alliances early in the game," but that there were "plenty of surprises" later. Third, Jimmy casually mentioned trying to get into the Final Three. Last, when asked if another "Heroes vs. Villains" season was done, which tribe would he be on, he replied that although he considered himself a Hero, most of the other contestants would consider him a Villain. All together, these answers lead me to believe that Jimmy got really far into the game. If he lost "significant" weight, he had to make it at least halfway through the 39 days. Further, if he is referring to an "early" and a "late" part of the game, his time out there must have been significant. He would only know that there was a Final Three if he made it to the Jury, so I would expect him to be around at least that long. Finally, he could only anger enough people to be considered a Villain if he stuck around for a while. Upon consideration of all this, do I think Jimmy can win the game? Still, probably not, because of his own stated reasoning that no jury would award a celebrity a million bucks; but, I would improve his odds from the 125-1 I initially gave him to something more like 70-1, ahead of Dan and Kelly S.
Quick Hits
-Jimmy was initially upset when Jeff revealed that the tribes would be divided into Young and Old, as he hoped to have some of the young folks carry him a bit through the game. What is interesting to me here was the implication that the contestants were maybe able to socialize first before they were divided. If so, this could have an impact later in the game when tribes are shuffled or at The Merge.
-Once the tribes were divided, Jimmy's tribe, Espada, went one by one to see who they each matched up with on La Flor. After the survey, Espada truly belived they were the stronger tribe. We'll have to see how that plays out.
-Jeff Probst, in Jimmy's opinion, is the heart and soul of Survivor. He is maybe the best person Jimmy has seen at detecting when someone is hiding something and getting that person to reveal his or her secret. He doesn't know how the show would go on without Jeff.
-Most NFL players are way too accustomed to their cushy lives to ever succeed on Survivor. He thinks Brett Favre would do well, but Terry Bradshaw would last about a minute.
-Skeptics that argue Survivor is fake and that the contestants receive some sort of help from the production staff have noidea what they are talking about. The conditions and gameplay are as advertised.
With that, the hour-long call concluded. Jimmy seemed to have really enjoyed himself playing the game, and it lived up to and surpassed his greatest expectations. Hopefully, this season will as well. Survivor: Nicaragua premieres on Wednesday, September 15th at 8:00pm ET/PT. As the CBS people keep reminding us, this is a switch from Survivor's traditional Thursday night slot. Be sure to check out my Odds to Win before next week so we can all laugh at how terrible my predictions are during the season. Jordan Cramer will have an immediate reaction following Wednesday's premiere, and I'll be back next Thursday with my recap and new Odds.