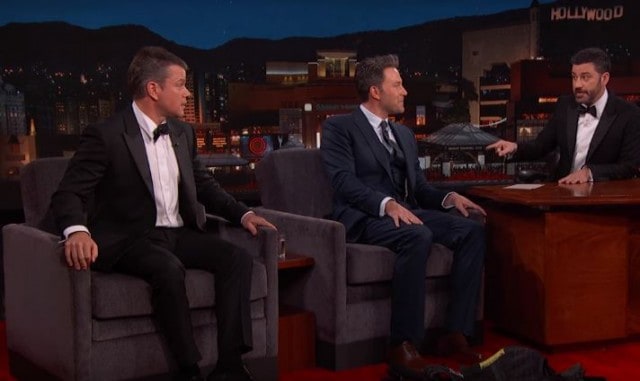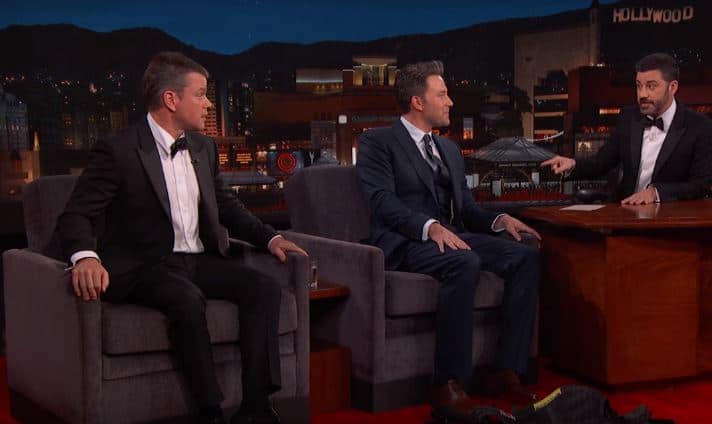 Jimmy Kimmel always welcomes a bunch of terrific guests on his special post-Oscars edition of Jimmy Kimmel Live. However, one Oscar nominee that wasn't invited was The Martian star Matt Damon, who, as many people know, has been in a major "feud" with Kimmel for years. However, Matt Damon did actually get a chance to appear on Jimmy Kimmel Live last night, and it was all thanks to his friend and soon-to-be Batman, Ben Affleck.
So how exactly did this happen? Affleck pulled out one of the oldest tricks in the book and hid Damon underneath his jacket when he came out to be interviewed by Kimmel.
"What is going on here?" the late night show host asked. "What you got a monkey under there or something?"
Even though Affleck tried his best to play it cool, he wasn't able to keep Damon hidden from Kimmel for too long, and his reaction to seeing Damon again, along with the crowd's response, was pretty great. The audience barely ever stopped applauding, even rising to their feet at one point, before Kimmel finally had Damon dragged off the set by Guillermo.
Watch Ben Affleck sneak Matt Damon onto Jimmy Kimmel Live below:
[Photo via YouTube]