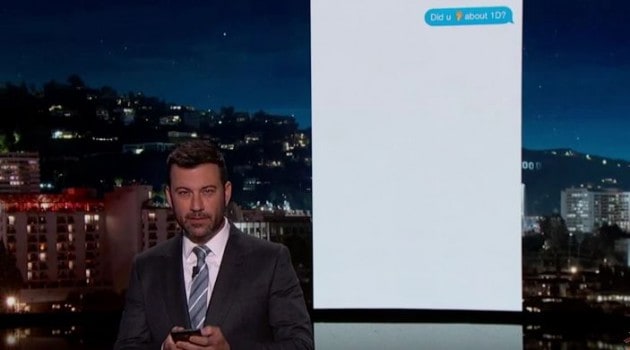 Just in case the entire world hasn't heard already, the famous boy band One Direction is taking a break "at some point next year." It seems as though the Harry Styles-led pop group is exhausted from touring. Or maybe they're just tired of a gazillion fans, or millions of dollars, or life not being that tough. Whatever the reason, it's apparently enraged many of their fans. Well, not enraged but needless to say many have been up nights crying. One fan in particular who needed to hear the news is Jimmy Kimmel's niece Allision.
"She has all their birthday's memorized. She definitely doesn't know my birthday," Kimmel said during Jimmy Kimmel Live Monday.
Kimmel then tried texting his niece to see how she was coping with the band's forthcoming hiatus.
"Now you can focus on your education," Kimmel texted Allison. She responded with alcohol emojis, and it only got worse from there.
Hope you enjoy the video below. It's about to get ugly.