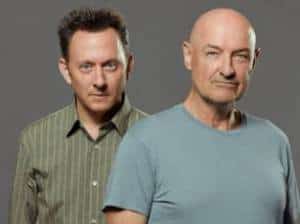 J.J. Abrams is one busy man. Fresh off the news that Alcatraz landed at FOX and Person of Interest found a home at CBS comes news that he is now pitching – are you ready for this LOST fans? – a comedic drama starring Michael Emerson and Terry O'Quinn (LOST's Ben Linus and John Locke) as former black-ops agents. The shows working title is Odd Jobs.
Vulture hears that Abrams and his frequent collaborators Josh Appelbaum and Andre Nemec began pitching the show to networks last week. As the report says, "the involvement of Abrams and other Bad Robot types means there's a really good chance the project will soon find a home." As stated above, Abrams has showed just this week that he can garner attention from networks and then seal the deal by getting his shows picked up.
All of us LOST fans know the chemistry the two of these men have on screen, and to get to watch them work together again would be a pleasure. Just imagining the two as new characters, cracking jokes as black-ops agents alone is worth a few laughs. The two have repeatedly both expressed interest in working together since LOST ended, but at that point it was two actors and friends hoping that something would come along for them. Now it looks like their hopes (and ours!) may become a reality very soon.
Are you excited or are you excited?