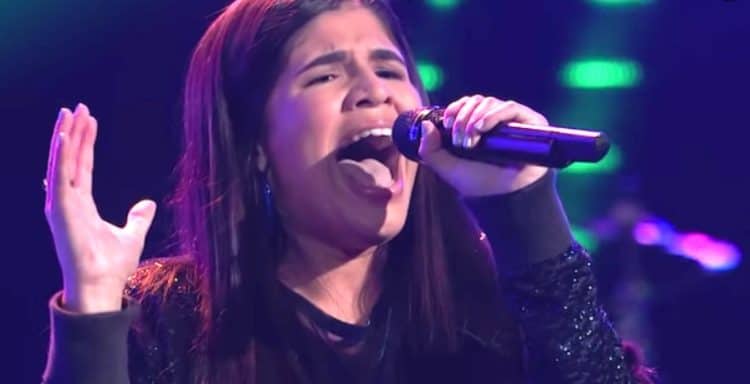 It's not often that a 15-year-old with a shy personality rises to the top of a national singing competition, performing in front of millions of viewers. Joana Martinez is a contestant on the popular television singing competition "The Voice." She found her courage and the confidence to put her misgivings aside and compete with some of the best singers in America to make it to the top 13 in the last of the season's knock-down-drag-out rounds. She's delivered a series of impressive performances and fans want to know more about her. Here are 10 things that you might not know about Joana Martinez.
1. Joana is still in high school
Martinez is just 15 years old. We don't think that it is a coincidence that her middle school nominated her as the "Most Likely to Win "The Voice." She has been singing for most of her life and she has a natural aptitude for music. Most of her school mates and community members were aware of her amazing talent even before high school. As it stands, she is making her high school and the entire community proud.
2. She attends a special high school
When we were looking into her history we learned that Joana Martinez doesn't go to a regular public school. Instead, the talented young singer is enrolled in a special magnet school as a sophomore. She attends the Miami Arts Studio where she is involved in musical theater as well. When she graduates is it possible that she will pursue a career in musical theater?
3. Joana is also bilingual
Ms. Martinez speaks two languages fluently. She is a second-generation Cuban-American who not only speaks both English and Spanish but she also sings in both languages. This expands her potential audience to include people from a wide background of English and Spanish speakers.
4. Her father has been an inspiration to her
Joana Martinez comes by her amazing talent quite honestly. Her father is also a musician. He plays the trumpet and the drums, but he was not able to make music his profession. He was delighted to have his daughter pursue her passion for music though. It seems that musical talent is prevalent in the Martinez family.
5. Music empowered Joana
When Joana was a kid, she was very shy. She enjoyed singing for her family and friends but when it came to strangers this was something that was difficult for her. Performing has done a lot to help her blossom as a person and to overcome her shyness. She is good at what she does and when she was just thirteen years old, she sang the national anthem in front of everyone at a Miami Marlins game, as well as at a Miami Heat game. This was very good for her self-confidence.
6. She was popular before the show
Joana already had a fan base before she appeared on "The Voice." We learned that the teen singer from Miami has an Instagram page and although she had it for less than a year, fans were pouring in. She had almost 1,000 followers on her account prior to "The Voice."
7. Joana has competed in other singing competitions
Joana competed in the Young Talent Big Dreams competition in 2015. She was a finalist in the contest and sang "The Edge of Glory" by Lady Gaga. You can still watch the video on YouTube.
8. She has also performed on other televised singing competitions
Joana Martinez has been spending a lot of her time in singing competitions. When she was only 13 years old she made an appearance on the Esta Noche Si television program. She sang "My Heart Will Go On" and "Oye." This was also a televised program and she appeared on the show in 2017, just two years ago.
9. She made a music video
We also discovered that Joana Martinez made a music video with ArtSing Studio. The title of the piece is called "Summertime." This video was released in 2016. You can go on Joana's YouTube channel and find a lot of different videos of her singing. The oldest one that is on there was made when Martinez was only nine years old and this was her first performance. She sang the song "This Girl Is On Fire," by Alicia Keys. If you're a fan of her music, this one is very much worth checking out. It shows you how far she has come since she first started performing.
10. Joana Martinez is an emerging star
Ms. Martinez was already on her way to establish a successful career in the music industry. She's been a singer since she was just a little girl and although she is just 15 years old now, she has already achieved a great deal of success in her career. She was already popular with those who heard her perform prior to appearing on "The Voice." She had previously appeared in some televised singing competitions and had also made a series of her own videos which are posted on YouTube. Joana is also bilingual and she sings in both English and Spanish, which opens up a greater audience of fans for her music. She has two more years of high school to complete, but she's on her way to greater things. Having made it so far to the top 13 in the competition, she is almost assured of some kind of music offer as most talented young people are noticed by professionals in the music industry who can help them to get their careers on track for success. Joana definitely has the talent, and now, the confidence to move forward with a career as a professional singer. She is an emerging artist who has just been given a big boost and now the country knows who she is. We expect to hear a lot more from Joana in the near future whether she places first in "The Voice" or not.