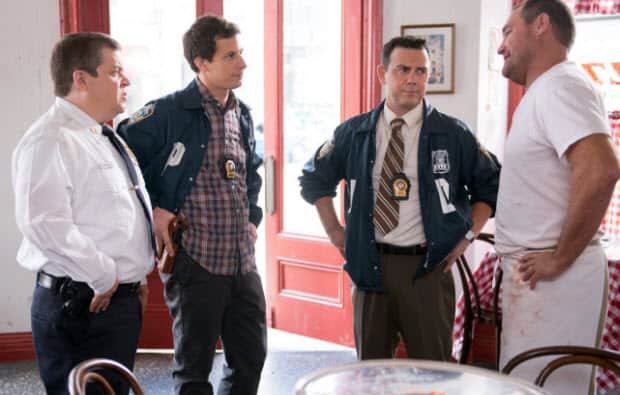 Okay, Brooklyn Nine-Nine is one of my favorite new shows this season. It is well-written and filled with laughs, but what makes it so great is the awesome, ensemble cast. While it may be hard to pick a favorite (is it Andy Samberg or Terry crews?), the real shining star on the show is someone you have been watching in movies and shows since the late 90's (the best of you who can remember him from MTV's sketch comedy troupe, The State, win a hug), even though you may not know his name. Well, please allow me to tell you. It's Joe Lo Truglio, and the dude has been stealing scenes from some of the best comedians in film and on TV for almost fifteen years.
So in a show full of funny people, why does Joe Lo Truglio take the cake? Many reasons, actually. The first thing is, even when surrounded by crazy people, which is sort of the premise of the show, he is the craziest. The weird thing is, he underplays that. Â His character, Charles, is clearly a nerd and bit of a weirdo, but somehow, he still manages to be likable. That is really hard to pull off, yet he does it easily. Next up, his timing. He often chimes in on discussions going on around the office, and seems to do so at the worst times, offering advice that has nothing to do with anything, or ends up making him look REALLY weird. But that is the sign of a great comedian. Never afraid to step in front of a speeding train for the sake of a laugh. Remember, Joe Lo Truglio stole scenes in Superbad and Wanderlust up against comic giants for a REASON. He is just genuinely hilarious, straight up. If you are missing this show, you have no idea what you are missing. There is nothing quite like Brooklyn Nine-Nine on TV right now, and it is Joe who helps give it that status.
So if you have not seen Brooklyn Nine-Nine yet, or don't think you know how Joe Lo Truglio is, give it time. You will. This dude's star is only set to rise higher and higher, and he deserves it.
[Photo via Eddy Chen/FOX]