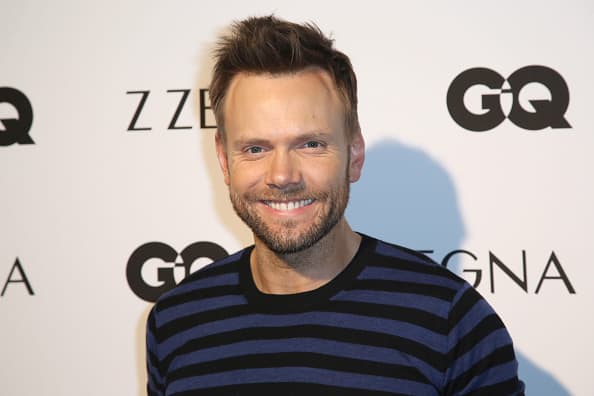 The truth is out there, and Joel McHale is going to search for it. The Community star has signed on for a guest starring role in FOX's upcoming X-Files reboot, which will debut at midseason on the network.
McHale will play play Tad O'Malley, the anchor of a popular conservative Internet news network who becomes an unlikely ally for Mulder (David Duchovny). The actor and comedian is the latest casting addition to the X-Files revival and the first new member to join the limited series. Original stars Duchovny, Gillian Anderson, and Mitch Pileggi will all be returning as Fox Mulder, Dana Scully, and Walter Skinner, respectively.
According to some reports, The X-Files creator Chris Carter, who is back for the new series, is a fan of McHale's work, and since McHale had bee looking to take on a dramatic role again, the deal worked out.
In addition to his work as group leader Jeff Winger on the NBC/Yahoo sitcom Community, McHale continues to be the host of E!'s The Soup. His other past TV credits include Video Game High School, Robot Chicken, and Sons of Anarchy, on which he had a three-episode guest turn back in 2012, the last time he really got to show off his dramatic chops.
The X-Files' six-episode revival will bring back Carter, along with original writers/producers Glen Morgan and James Wong. The limited series event is set to premiere on Sunday, Jan. 24, 2o16, following the NFC Championship game on FOX.
X-Files fans, are you excited for the revival, and what do you think of McHale's casting? Comment below and let us know.
Photo by Ari Perilstein/Getty Images for Z Zegna