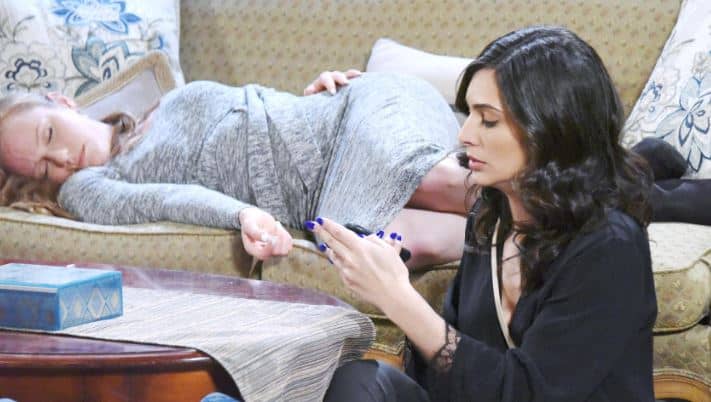 Days of Our Lives fans are not surprised that the week started on the note it did. However, there's a lot that might change over time. We do know that there is a good chance things might always fall apart for the couples around here, and that's not a big surprise, and it all began for some yesterday. For one, we did get to sit back and watch Mimi and Bonnie argue over something we think they need to get over. Their plan is not a good one, and they're only going to hurt Lucas and everyone in his life. Eric is also on the path to reuniting with Nicole. She's back with all her pain and suffering, the news that things did not go well for her, and the fact that she's been forced into marrying a man that she does not love or feel safe with for the simple fact that she wants to live. They will be back together.
This means any hope Jennifer has of actually marrying Eric is gone. She's not going to win him back now, and that's a problem she might have seen coming. But that's not really something she can help at this point. Furthermore, we are also going to see that there is a lot happening with Sheila and Abe. They continue to fight, but that's not really a big surprise to any of us. She's a problem, and he has no patience. Finally, we are going to see that John, Marlena, and Sami are getting closer to figuring out what is going on and what they can do to make sure things like this don't continue to get worse for them. They have to make some sense of what is going on, and they don't have much more time to get to the bottom of all of it.
What's Happening on Days of Our Lives
Ever wonder what it's like to spend a day on the set of #DAYS? Here's all the juice details from @BuzzFeed! https://t.co/J743bOGdpp

— Days of our Lives (@nbcdays) October 5, 2018
Would it be your dream come true to spend a day in Salem with your favorite characters? You can get a good behind the scenes shot of what it might be like, and you can spend some time focusing on what you might enjoy the most. What do you feel your day in Salem would look like? We want to hear in the comments section below!
What's Next on Days of Our Lives
Eric lost Nicole once, and he's not going to lose her again – regardless of what Xander has done. What Days of our Lives, weekdays on NBC. pic.twitter.com/VOqNOsJQqW

— Days of our Lives (@nbcdays) October 5, 2018
Things are looking up for Eric, well, as much as they can be, now that Nicole is back in town. She's shown up and she's got some shocking news for him and all the people in her life. She's not going to keep this to herself for long, and he's going to do anything and everything he can to get her back and keep her safe. And that is one of those things that Jennifer knew would probably come when she opened her mouth and made it known what she knew and what was happening a few weeks ago when she was honest with him. However, the news that Nicole has to share with Eric is going to do nothing short of stun him into submission. He had no idea, and he's not sure how to handle what she has to say.
And then there is John. He and Marlena didn't really get married even though we like to say they did. They were close enough to tying the knot for us, and that's what happens when we all get to watch this show – we get to pretend. Either way, while they know their almost wedding night was a mess, they didn't really have any answers. Until now. They are about to find out what happened, why it all went down like this, and what went down. It's one thing after another around her, and they are about to learn the truth. Can they candle what's about to come their way?
Stay tuned for more Days of Our Lives and be sure to check out TVOvermind daily for the latest Days of Our Lives spoilers, news, and updates.