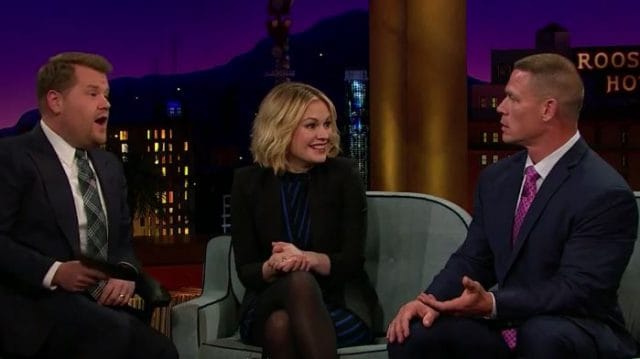 As most people know, before John Cena was an actor and reality show host, he was a WWE wrestler. In fact, as James Corden brought up last night on The Late Late Show, Cena was even called the "Marky Mark of the WWE" by some.
"Is that a nickname you like, the Marky Mark of the WWE?" Corden asked him.
"Probably about as much as you liked being called the 'Jamesy James of Late Night,'" Cena joked, although Corden admitted that he would actually like being called that.
The two of them then touched upon the idea of trash-talking, which is a huge part of the WWE, and when Corden asked Cena what the worst thing that had ever been said to him was, he had quite a good answer. Cena talked about the time that Dwayne "The Rock" Johnson told him that he had sex with his mother, and while that would typically bother most guys, Cena had a different a response.
"But he did it in such a way that he made it cool," Cena said, admitting he "wasn't too offended by it."
"I've got to say, I'd let The Rock have sex with my mom," Corden told him.
Watch John Cena talk more about wrestling and respond to Kevin Hart's apparent trash-talking about him in the video below:
[Photo via YouTube]