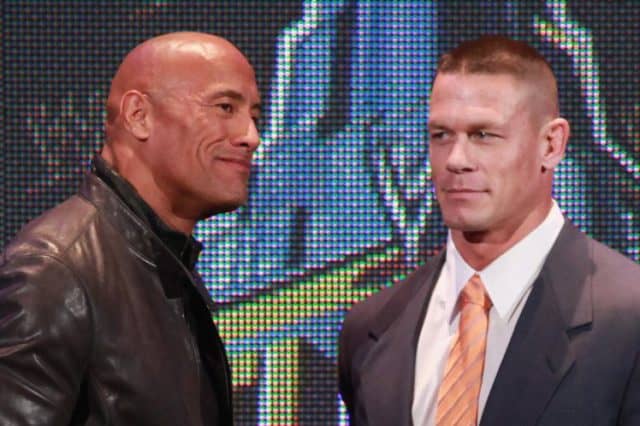 John Cena and Dwayne "The Rock" Johnson have thrilled fans of WWE at Royal Rumble for decades. The two put on spectacular exhibitions in the ring as opponents, but they've recently joined forces to team up for a new film called "The Janson Directive." It looks like we're seeing a repeat of the exodus that Johnson made from the WWE to a very bright career as a Hollywood actor. He's one of those guys that is always welcome back to the ring and every now and then, he makes a reappearance. Cena appears to be travelling the same route, with a foot in both worlds.
Cena to star in new film
John Cena has accepted the leading role, which should come as no surprise to fans following his career. He's quickly becoming well-known to fans of the cinema as well as the WWE. He's done a decent job in bringing his characters to life in "Trainwreck," the comedy "Blockers," Daddy's Home" and "Sisters." As his acting portfolio expands, we'll be seeing less of him in the ring, but it's not a bad thing. Like Johnson, the 41 year old Cena has a place in both worlds and we don't see that changing as he expands his horizons as a professional actor. It hasn't been that long since he defeated Triple H in the ring at the Greatest Royal Rumble.
Not really rivals
Cena and Johnson put on a good show as rivals, but the truth of the matter is they're really buddies. Both men are talented actors and they have no problem tackling each other in the ring, and remaining friends. Cena is set to star in the film but you won't see Johnson there. "The Rock" is producing "The Janson Directive" under his Seven Bucks production company. Social media posts from Johnson let us in on the tight relationship and respect that Johnson really has for Cena as he referred to him as a "good bud." He's excited about working with Cena on the film because he knows that he'll put passion into his work. What more could a producer ask for?
Origins of the film
"The Janson Directive" is an adaptation from the Robert Ludlum novel, "The Bourne Trilogy." Cena takes the lead role as Paul Janson, a Navy SEAL who is doing some security consulting work for a corporation, when he's targeted by the bad guys. The plot centers around a rescue operation that goes awry and to tell you anymore could spoil the surprise.
Stay tuned for more
Don't expect to see a lot of Cena in the ring this year as filming of the new project is set to begin. He's going to have a full plate, but he's still young and tough so, while he's likely to be there less, don't totally count him out. The film is currently in its pre-production stage, but as the cameras begin to roll, we know there are going to be a few really cool trailer releases. Keep your eyes and ears open because there will be more information coming up as the production crew gears up and wades into the process.