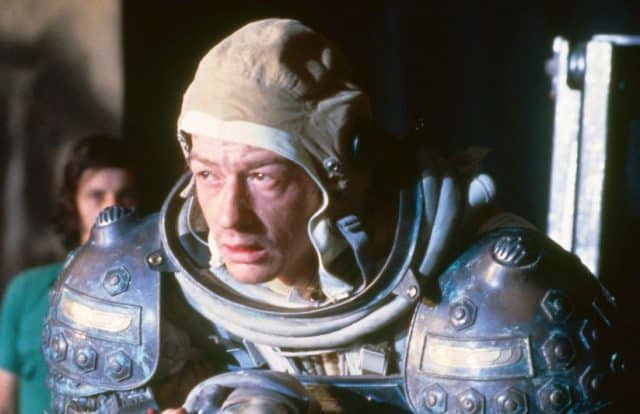 Anyone who's ever seen the movie Alien will know who John Hurt was.  He was in one of the most famous scenes in the movie where the Alien came right out of his chest.  This was back in 1979. He later parodied that scene in the movie Spaceballs some years later in 1987 by saying "oh no, not again."   The actor unfortunately lose a battle to pancreatic cancer this Friday at the age of 77.  Hurt often joked about how many of the characters he played were killed off.  Hurt actually made a living by dying.
"The Many Deaths of John Hurt" was even a video compilation the actor highlighted on his YouTube page, displaying nearly 50 years worth of untimely demises (set to the "Baby, don't hurt me" lyrics of Haddaway's dance single "What Is Love?").
Hurt's character in Alien, Kane was actually the first character death in the movie but that scene will always remain one of the most memorable in cinematic history.  The scene was so sudden, dramatic, and unexpected that viewers didn't know what to think and to this day anyone who's seen it can't help picture it when they've eaten a huge meal or feel nauseous.   Amazingly Hurt was the only actor who knew what was going to happen in that sequence as all the other actors were taken off the set.
His character in Alien was short-lived, but thanks to that unforgettable death — he remains immortal.  With regard to his career had been nominated for an Oscar the previous year in the supporting category for Midnight Express, and would be nominated the following year in the lead category for The Elephant Man. 
He will be missed.