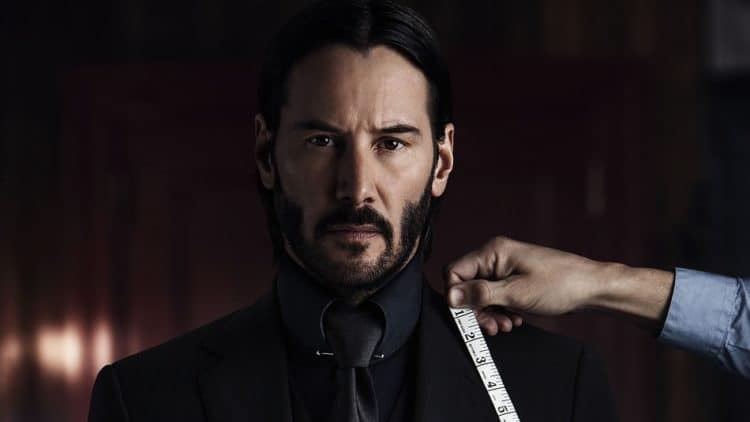 I remember a time before when Keanu Reeves wasn't known for playing notorious hitman John Wick. Back in his early days, I really recognized him as Neo from the Matrix movies. Okay, so maybe the seconds and third movies weren't so great, but the first one is one of my favorite movies ever. And hey, we'll be getting the fourth one next year, so maybe the franchise will earn some redemption. But as far as Keanu Reeves' career, his early days included some memorable action movies like Speed and Point Break, along with more serious movies like Hardball. By the time I reached high school, it seemed like his career hit a slump.
With several critical and financial disappointments like The Day the Earth Stood Still remake, David Ayer's Street Kings, and the very disappointing Japanese fable 47 Ronin, it seemed like Keanu Reeves' glory days were behind him. He did try his hand at directing with the 2013 martial arts movie Man of Tai Chi, which wasn't bad. However, it was another financial disappointment that our man Keanu had to bounce back from. To be honest, I had my doubts that he ever would, but a very surprising 2014 action movie shattered those doubts completely.
Remember when you saw the first John Wick movie for the first time? I mean, I remember when I first read the synopsis for it and thought it sounded ridiculous. So a guy who was a retired hitman goes on a revenge spree because some punks killed his dog? Don't get me wrong, I like dogs as much as the next guy, but that whole concept just sounded silly to me. I initially believed that John Wick was just going to be another generic action movie with Keanu Reeves doing his thing and being his cool self. And when I saw it in the theater back in 2014, I quickly realized how wrong I was.
So Keanu Reeves still did his thing and he was being cool, but John Wick wasn't your average action hero. In fact, Keanu Reeves didn't even play him the same way he played Neo or his other action roles. He wasn't throwing flashy kicks or dodging bullets. Keanu, being the dedicated and awesome guy that he is, put in some serious hours training under the famous Machado brothers for Brazilian Jiu-Jitsu, Aikido, and Judo. You can watch all three John Wick movies and you'll see a plethora of techniques from each of those martial arts used by the dog-loving hitman. You probably won't see those martial arts used better in other action movies, so props to John Wick for giving us something different.
And as for angry Keanu avenging his dog? Well, there was actually a reason for it. And in a moment of (admittedly) Keanu Reeves overacting, he explained fully what that dog meant to him. It's okay, Keanu, you're still our guy and we love you. In fact, the John Wick movies really gave his career the rebound it needed and now, that's pretty much all we see him as. Three movies in, and I think it's safe to assume that John Wick is ranked amongst the greatest action movie franchises ever.
But why stop at a trilogy? Well, if you remember how the last movie ended, Mr. Wick was in a pretty bad place. Winston betrayed and nearly killed him, The Bowery King and his guild of homeless assassins rescued him, and now, it seems like they're going to join forces and go to war with the High Table. Oh boy, I think we're in for one seriously adrenaline-filled ride. However, after watching John Wick go through dozens of other assassins, it makes me wonder something.
So the last movie had John Wick go up against Zero, probably his toughest opponent yet. However, our favorite hitman still won in the end, so now he needs a new challenger. Well, it has recently been reported that Japanese superstar Hiroyuki Sanada has joined the cast for chapter 4. This is very exciting news, especially since I think Hiroyuki Sanada is criminally underrated. Recently, he has been in Zack Snyder's Army of the Dead and played Hanzo Hasashi, aka Scorpion in the Mortal Kombat reboot.
However, I remember seeing him for the first time acting alongside Tom Cruise in the 2003 movie The Last Samurai. That was my introduction to him, and I was beyond impressed with his acting and martial arts abilities. Ten years later, he would go on to impress me even further by taking on Hugh Jackman's Wolverine in the 2013 movie. As Shingen Yashida, he was half-dead and still managed to cross blades with the frikin Wolverine. Oh, and he also did the same with Hawkeye in Avengers: Endgame, but he didn't last nearly as long.
And before he meets John Wick, let's remember that he once acted alongside Keanu Reeves before. Remember when I mentioned 47 Ronin? Yeah, that movie was overall forgettable, but at least those two were the memorable parts. My theory: Hiroyuki Sanada will be playing the villain in John Wick: Chapter 4. Now it has yet to be confirmed on what kind of role Sanada will be playing. However, the only insight we have on his character is from an interview Laurence Fishburne did with Collider. According to him, the fourth movie will dive deeper into the code that the assassin's live by and how it affects their world. He then said it had a lot to do with "Mr. Watanabe's character" who just might be Sanada's character.
This character will surely interact with John Wick, but will he be a friend or foe? I have a feeling he'll be Jon Wick's next physical challenge. And let's keep in mind, in Sanada's most recent movie, which is Mortal Kombat, he was doing his own stunts. That first fifteen minutes was all him in his pre-Scorpion persona tearing through Lin Kuei assassins. You want to know something else. He's 60-years-old. If that doesn't earn him much respect, then I don't know what does. The only thing that would cement his status as a legitimate martial arts star is fighting John Wick. And if he doesn't? Then at least he can give us some awesome fighting scenes with Keanu Reeves.