I have always been a staunch defender of the Gosselins and a huge fan of their show. Earlier this year, when the initial rumors of Jon's infidelity started to leak out, I was in complete denial, made excuses for him, and defended the whole family.
I have to admit, though, I was only half excited for last night's two new Jon and Kate Plus 8 episodes. The other half of me was absolutely dreading having to watch them. What I once described to my mom as 'a genuinely happy show that will just make you feel good'is now quite the opposite. It's downright sad to see this family torn apart and to think about what those kids are going through. I will admit, I might have more of an irrational sense of attachment to this family than I should, but I think most people would agree that it's hard to even watch the early episodes of this show, when they were happy, now.
While the split was a major discussion in the interview portions, it was never really addressed in the main parts of the show. In fact, Jon was barely even in the first episode, and completely absent from the second. Of course, anyone who even remotely pays attention to celebrity news could have expected that. Jon's behavior in the past few months has made it clear that his new found 'youth'is more fun than his kids, despite his repeated statement that '[his] family comes first.'
Episode 8, Renovation & Vacations, jumped eight months into the past, when the couple was merely separated, for an awkward meeting with the people renovating the Gosselin's kitchen. [Side note: They do know all of America has seen their kitchen, right? And that 99% of America was already jealous of the space, Viking appliances, and gorgeous counter tops and cabinets? So… why exactly did they need it re-done? Moving on.]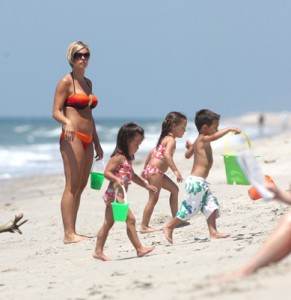 The tension is definitely palpable in the one scene featuring both Jon and Kate, when Jon suggests the apparently atrocious idea of an under-the-counter refrigerator, to which Kate replies: 'No! What planet are you on?'and Jon simply shrugs. After a few days, Kate decides she can't handle the stress of living with Jon–er, I mean, the construction, so she takes the kids to the beach while Jon stays behind to get away from her–er, to 'supervise'the renovation. The kids play and swim and have fun, while Kate puts a damper on the trip, saying she was constantly thinking about Jon not being there. Back in Pennsylvania at the house, Jon watched the construction crew work, and a drill fell on someone's head.
Episode 9, Camping Out, brings us back to the present for a Jon-less backyard camping trip. Again, the kids had fun and played, while Kate struggled to 'do things she never thought she'd be able to do'like setting up the tents, starting a campfire, and even (gasp!) replacing a window screen. This episode was a little lighter on the sadness, (with the exception of a couple kid comments: 'Daddy knows how to set up a tent.') and more focused on Kate rebuilding her life without Jon.
Next week, we'll head back into the time machine for the big kitchen reveal, but will anyone be watching? I'll stick around for a few more episodes, but I don't know how much more I can take.