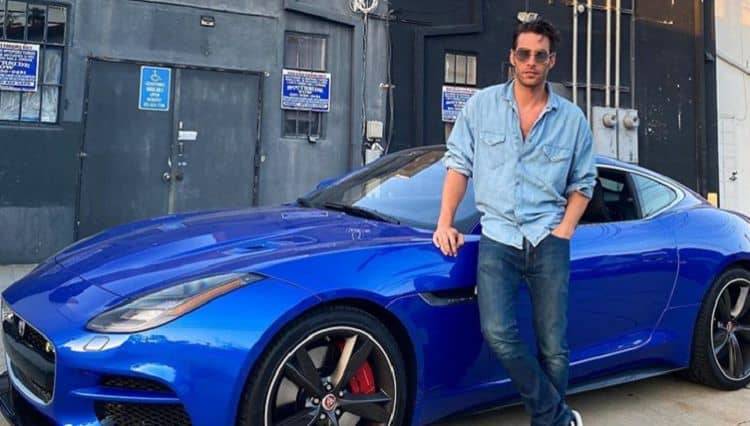 At only 17 years old, Jon Kortajarena attracted the attention of a model scout who convinced Jon that he would be a great model. Despite modeling for all the top brands, Jon recognized that with age, his looks would no longer be an asset. Consequently, he began transitioning into the film and television industry since he wanted to be an actor from his teenage days. Find out more about the actor cum model by reading the facts below.
1. His mother got him a Bulgari watch for his 21st birthday
Mothers do anything to make their children happy, and most of the time, that means sacrificing. Jon's mother is no exception, and for her son's 21st birthday, she saved up until she had enough to buy him a Bulgari watch. Now he gets to wear any Bulgari watch in the market since he became the brand's ambassador in 2017.
2. He was attacked in London in 2017
Jon had finished enjoying a holiday in Ibiza and was returning home to London when he was mugged, and his phone was stolen. He announced on Instagram with a black image, perhaps signifying that he was going dark, that he had no way of contacting his people. He added that he had not been hurt in the attack and was only telling his fans because he does not advocate for any abuse.
3. How he maintains his shape
Looking at Jon, you would quickly conclude that he spends most of his time in the gym. However, he confessed he rarely exercises and can only thank the universe for the enviable physique. Still, he does not take it for granted since it is through it that he has a job. Therefore the model began taking care of his body, admitting that beauty is a gift which has to be taken care of lest it fades with time. Jon thus cut a few things in his diet, including soft drinks. The main thing that works in his favor is his passion for running since it is his way of escapism.
4. He is socially responsible
When Jon started working with Bulgari, it opened up doors for him to also become an ambassador for Save the Children. The watch label has been partnering with the nonprofit organization since 2009 and has raised more than $80 million through selling jewelry collections. Jon was glad not just to wear luxurious watches but also to make a difference in the lives of children; he recalls visiting Nepal and witnessing the schools that had been built after successful campaigns. The model also is passionate about the environment because he believes environmental pollution is destroying our homes. Therefore he raises awareness on social media and also supports Greenpeace, an organization committed to making the planet a more habitable place. As an ambassador of Greenpeace, the model also went to Vanuatu and saw the first climate change refugees in the world.
5. He only trusts his mother to cut his hair
According to Grazia, the model would rather reroute a flight to go back to his mother and have his hair trimmed. He explains that as a model, most barbers are quick to cut hair they see is not picture worthy; therefore, he tries as much as possible to get it done by a professional who happens to be his mother.
6. The tattoo he has on his neck is his original creation
Jon has a creative streak in his genes, and like most celebrities, he only wanted something that held special significance permanently on his body. Therefore on his neck, you can spot a tattoo of a tree; although currently, it is more detailed, the idea hatched when Jon was five. He and his family visited Lanzarote and loved the place so much that he returned later on and still felt a connection with it. The tattoo is therefore inspired by the spectacular scenery that help give Jon a feeling of tranquility.
7. His love life
Jon does not gush about his romantic life, but it was in the public domain that he and Luke Evans dated for two years. Although the relationship was on-and-off by 2017, it was speculated that once again, the two had rekindled their romance. Luke took to Instagram to thank a special someone which had people already assuming that it was Jon since the model had also wished his ex a happy birthday. According to Model Fact, Jon had previously dated Blanca Romero and Alfonso Bassave in 2007 and 2010 respectively.
8. His parents were worried he would become narcissistic
When Jon's parents learned that Jon was seriously considering pursuing a modeling career, they were not supportive. For them, although they knew their son was handsome, they feared that being in front of cameras and becoming recognized globally would make him narcissistic. Jon has, however, proven that there is no cause for worry since he upholds his morals. He reasons that regardless of how successful one is, you should never be mean to people.
9. He does not have a television in his Lanzarote home
Jon did not want to give up the peaceful life he had experienced on Lanzarote; thus, he bought a house that had been built in the 1970s. The renovation took more than five years, and he had a hard time trying to tell the workers to retain its roughness on the outside. In the end, Jon had his breathtaking Casa Sua, which is now a hotel. Speaking to Vogue Man, the model revealed that the home does not have a television or any other superficial a luxury. All he wants to enjoy is the beauty of nature comprising beautiful volcanoes whose color changes depending on the time of day or night.
10. He had a hard time adjusting to the modeling world
One of the worst things that Jon experienced was being away from his family since he was still so young and yet to be independent. He had to miss his sister's communion and birthday, but that was just the start; when he learned that he would be expected to take nude pictures, he was uncomfortable at first but later appreciated nudity as a form of art.