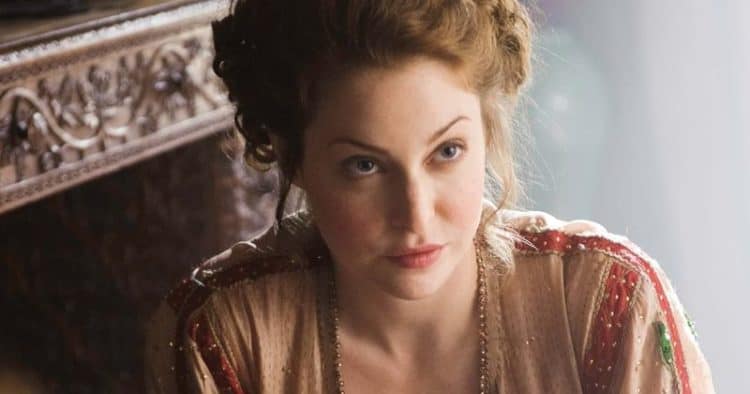 Game of Thrones is one series that has been hyped as among the best with fans always ready to catch a few sex scenes. If you are a fan of the show, you must have seen a prostitute with striking red hair. Her name is Josephine Gillan and here is everything you need to know about the woman who has no problem with nudity.
1. She was a prostitute in real life
If you are a Christian, then Josephine has to remind you of that woman that was brought to Jesus to be stoned, but He turned people away by telling the holier-than-thou multitude to cast the first stone. From drugs, alcohol, being raped, to doing pornography, and still exchanging her body for money are all in Josephine's resume. However, that life is now behind her as she focuses on raising her daughter and setting the right example.
2. She acted as a prostitute in Game of Thrones
Josephine's revelation was quite ironic when she revealed as reported on Daily Mail that her acting as a prostitute in "Game of Thrones" saved her from being a prostitute in real life. Josephine got the part after she responded to an advert calling for young women with no tattoos and natural breasts, who also did not mind nudity. Given her line of work, Josephine does not have any issues with being filmed naked. It was a heaven-sent opportunity, and she became a recurring cast member of the series.
3. She suffered from postpartum depression
Most women who give birth suffer from mood swings that can last for two weeks after delivery. However, some will go for months still experiencing some of the symptoms as postpartum depression sets in to disrupt a healthy relationship between the mother and baby. Josephine suffered from postpartum depression, and according to Meaww, social services ordered her to undergo therapy while a friend took care of her baby, to which Josephine obliged.
4. Israeli social services took her daughter
It is disheartening when you are doing everything you can to be the best parent you can be, but someone looks down on your efforts and tears you apart from your children. Josephine was already going through postnatal depression therapy as ordered, but the Israeli social services were out to get her. Josephine was raising the baby with the help of a friend and under the close supervision of social services. However, social services still took her baby away, heeding to a court order that was issued last week. They intervened because Josephine went to the UK for a long time and left the baby with a friend. She only returned to Israel to fight the court order, perhaps afraid her daughter would have a similar experience in the foster care system.
5. She moved to Israel from Britain last year
Josephine's life seems to have ironic twists of fate. First, she acts like a prostitute, which saves her from her real-life prostitute world. Then Josephine leaves Britain to prevent social services from taking her baby only for Israel's to "kidnap" her daughter. Josephine was determined to keep her baby. Therefore, last year, she emigrated from Britain to Israel to have her baby. Josephine cared for her until she was five months when she began undergoing treatment for postpartum depression.
6. She cannot afford legal fees
Josephine has been making money for a long time as a porn star, and according to The Daily Mail, female porn stars can make up to $2,000 per day. "Game of Thrones" actors also are paid handsomely with some making as much as $1.2 million per episode in the 8th season. Although Josephine is not in the league of Kit Harrington or Emilia Clarke, even extras were being paid £500 per day in 2015, an amount that is bound to have increased. Josephine has been recurring in 6 seasons, so her pay per episode has to be lucrative. To see her begging people to help her raise $5,000 for legal fees has to make you wonder what she does with her money.
7. Her hair is naturally red
Men can be picky about the women they like. While some like brunettes others prefer blondes. For that reason, women go as far as dying their hair to catch the attention of men. Josephine was blessed with red hair, and it is a distinctive feature that is sure to make men notice her and some women jealous.
8. She acted in pornographic films
Most women who are in pornography are only trying to earn a living. We all know that life can hit you so hard that you find yourself at the rock bottom. Even Sylvester Stallone had to pass through the X-rated films before getting his big break in Hollywood. Josephine had already been through so much by the time she was 15. So, as an adult, her life choices were not exactly heeding any moral policy. She decided to act in pornographic movies as Sophie O'Brien, and perhaps it was only preparing her to be the star that she is today.
9. She grew up in a foster home
No parents in their right mind ever want to leave their children to grow up in the foster system. However, sometimes, there is only so much they can do. Josephine is one woman whose childhood was not all rainbows. At only 12 years of age, Josephine was taken into a foster home to be raised by a family friend. Unfortunately, he only groomed her for his selfish, immoral motives. Josephine was introduced to drugs and alcohol, and by 14 she was hooked to cocaine. To make matters worse, the family friend raped Josephine and went ahead to make money out of her by pimping her to his friends.
10. She went to 24 primary schools
We all read biographies of people who have attended a few schools, especially universities because they dropped out. However, attending 24 primary schools has to be a new record, yet Josephine had to keep changing schools. Josephine's mother was unlucky for falling in love with a violent man. Therefore when she decided to break free from the violent relationship, the man kept chasing after her leading Josephine to keep changing schools.