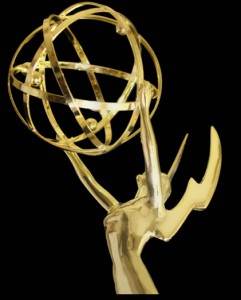 It has just been announced who will be announcing the Emmy nominations, and Fringe and Mike & Molly fans will be happy to hear that if they get up at the early time of 5.30am on July 14, then Joshua Jackson (Peter Bishop) and Melissa McCarthy (Molly) will be the ones reading out the lucky names. Joining Jackson and McCarthy in this presentation will be John Shaffner, who is the Academy of Television Arts & Sciences chairman and CEO.
This is the time of year when speculation, predictions and Emmy wish list's start getting drawn up and it would be really great if Fringe was to get recognised in some capacity this year. Whilst it unfortunately remains unlikely, I would really like to see Joshua Jackson read out the name of at least one of his co-stars, as both Anna Torv (Olivia Dunham) and John Noble (Walter Bishop) were fantastic this season in their dual (or in Torv's case triple) roles. Though it isn't outside the realm of possibility, as genre shows such as The X-Files and Alias were both nominated in the acting categories in the past, however I won't be getting my hopes up for the Academy to recognise Fringe this year (I will happily eat my words if it does).
The Emmys this year will be hosted by Jane Lynch (Glee) which in many ways seems like a very good choice, she took part in the brilliant opening of last year's Emmy show and she has great comic talent. This performance can be viewed below to get us in the Emmy spirit and because it is generally awesome. As my colleague Clarissa has mentioned and I very much agree with, I just hope that it doesn't become a completely Glee centred performance, as whilst she is great as Sue Sylvester, she is very funny outside of this character as well. Also, after how great Neil Patrick Harris was at the Tony awards and how generally fantastic he is at all awards shows, can he make an appearance please?
Who would you like to see Joshua Jackson and Melissa McCarthy announce as a nominee on July 14? Let us know your Emmy hopefuls and why in the comments below.
To see why we think Anna Torv should be included head here. For a look at The Hollywood Reporters Emmy roundtable discussions with drama actresses and showrunners head here. Be sure to check back for Emmy news and opinions coverage from us here at TV Overmind.
The Emmy awards will be held Sunday, September 18 at L.A. Live's Nokia Theatre in Los Angeles and will air at 8 pm ET/5 pm PT on Fox.