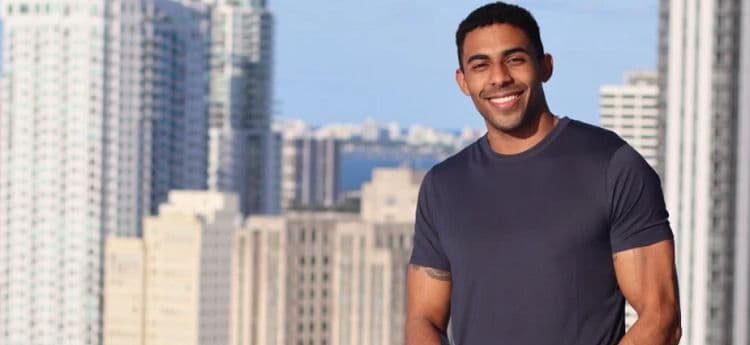 You may not be familiar with the name Joshua Tylerbest just yet, but that could change depending on how things go for him on The Bachelorette. As a contestant on season 17, Joshua is one of the many men who are ready to go all on to win Katie Thurston's heart and leave with a long-lasting relationship. With his combination of good looks and charm, he should have no trouble standing out among the other contestants, but hopefully, it'll be enough to help him for a legitimate connection with Katie.  There are already a lot of people out there who are ready to see where the journey takes Joshua, but so far he looks like a pretty promising prospect. Keep reading for 10 things you didn't know about Joshua Tylerbest.
1. He Has Trinidadian Roots
Joshua is originally from the Miami area, but the flag in his Instagram bio suggests that his family is originally from the island of Trinidad which is located in the Caribbean ocean. Outside of that, we weren't able to locate any other information on Joshua's family. However, he does seem to have a close relationship with his mother.
2. He Was A Cheerleader
Joshua went to college at the University of Florida where he majored in management information systems and graduated with his bachelor's degree in 2018. While there, he was also a member of the cheerleading team. He loved cheering the football games and is a big fan of the team. His cheer days may be over, but Joshua still enjoys staying active as much as he can.
3. He Loves Listening To Music
For lots of people, music is one of the most powerful forms of art. Whether you're feeling up or down, there's usually at least one song out there that fits what you're going through at the time. Joshua can relate to this feeling as he's a big music fan. He has an account on Soundcloud where he's posted some of the songs he likes.
4. He Is Really Into Christmas
Christmas is widely considered the most wonderful time of the year, but for most people, that 'time' doesn't start until after Thanksgiving. However, when it comes to celebrating Christmas, Joshua isn't like most people. According to his bio, "Josh starts celebrating Christmas in October."
5. He Has A Great Job
If Katie is looking for a man who has his stuff together when it comes to work, Joshua scores major points in that department. He currently works as a "sales solutioning senior consultant" for a company named Invisors in Miami. His LinkedIn profile shows that he's been with the company for a little over three years.
6. He Is 25 Years Old
As with every season of The Bachelorette, the contestants' agents tend to vary a bit. Joshua is only 25 years old which makes him about five years younger than Katie. While this isn't a huge age difference, it may make Katie a little less likely to take Joshua seriously.
7. He Is A Private Person
There are probably a lot of people out there who are dying to know more about Joshua, but there simply isn't that much information on the internet about him at the moment. Joshua does have an Instagram account that he's fairly active on, but his content doesn't really touch on his personal life. Once the season is over, he may decide to share a little more information about himself.
8. The Bachelorette Is His Only TV Experience
Joshua definitely has a face that's perfect for TV, but he probably never imagined that he would eventually become a reality TV star. In fact, being on The Bachelorette is his first time being on any kind of TV show. There's no information to suggest that he attempted to do other shows in the past or that he plans to do others in the future.
9. He Has An Account On TikTok
Joshua has a TikTok account, but he hasn't posted any content. Once the show airs and more people become aware of him, there's a good chance that people will start following his TikTok, so it could end up being a great opportunity for him to build a bigger social media following.
10. He Likes To Play Video Games
While it doesn't appear that Joshua is a very serious gamer, a photo of him wearing a headset suggests that he does enjoy playing at least casually. We weren't able to find any additional information on which consoles or games he prefers to play. Hopefully, Katie doesn't see this as a problem.