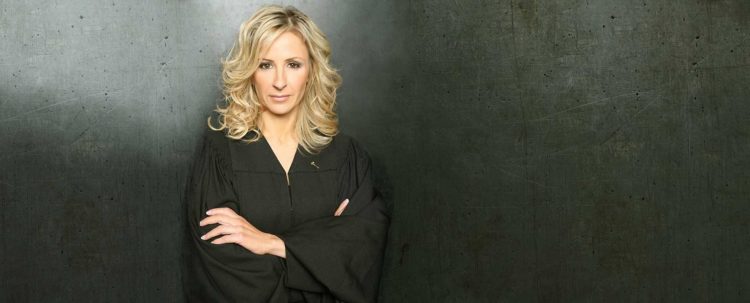 Cristina Perez is best-known for being a TV judge. Currently, she has a staged court show called Justice for All with Judge Cristina Perez, which has both an English version and a Spanish version. Here are 10 things that you may or may not have known about Cristina Perez:
1. Born in NYC But Raised in California
Perez was born in New York City. However, she has a stronger connection with the state of California compared to the state of New York, seeing as how that was the place where she was raised.
2. Studied Law
Unsurprisingly, Pereze studied law in school. To be exact, she went for a couple of BAs at the University of California, Los Angeles. After which, she went for a JD at the Whittier Law School. Generally speaking, it seems that the Whittier Law School doesn't have the best reputation, seeing as how it was announced in April of 2017 that it would be closing down. Something that was particularly notable because that made it the first law school with full ABA accreditation to be closed down in multiple decades. Fortunately, it is clear that Perez has been very successful whatever the status of her alma mater.
3. Is a Licensed Attorney
Of course, Perez is a licensed attorney. After all, she is a TV judge, which might not be a real judge but is nonetheless a position that calls for considerable expertise and experience when it comes to the relevant topics in law. With that said, there are a lot of TV judges that have served as real judges before their time on TV, though Perez doesn't seem to be one of them.
4. Colombian Background
Some people have been known to assume that Hispanic is the same as either Mexican or Mexican ancestry. Perez is Hispanic, but Perez isn't either Mexican or someone with Mexican ancestry. Instead, she is an American with Colombian ancestry, which refers to the country that is situated in the north of South America but extends a bit into North America as well. Colombia is interesting for a number of reasons. For example, the country is very diverse in an ethnic as well as a linguistic sense, seeing as how its culture has been influenced by everything from multiple Amerindian civilizations to European settlers, African slaves, and later immigrants from both Europe and the Middle East. Likewise, Colombia is one of the very small number of countries that are considered to be mega-diverse, meaning that it harbors a huge number of endemic species.
5. Crossed Over From Spanish-Language TV to English-Language TV
Perez's TV career started out on Spanish-language TV. In short, she was the main figure on La Corte del Pueblo, which started out on KWHY-TV before moving to Telemundo. Said show lasted from 1999 to 2000. After which, Perez got a second show called La Corte de Familia on the same TV channel, which had a longer run from 2000 to 2005. Eventually, she managed to make a successful crossover into English-language TV with Cristina's Court, though she is still very much involved with Spanish-language TV.
6. Currently Doing Justice for All with Judge Cristina Perez
Currently, Perez is the star of Justice for All with Judge Cristina Perez, which is one of Entertainment Studios's numerous court shows. It is interesting to note that the court show is non-traditional in that it features reenactments of real cases, though its marketing is careful to point out that its characters are fictional rather than representations of real people. Besides this, Justice for All with Judge Cristina Perez is also notable in that it has both an English-language version and a Spanish-language version that are produced at the same time.
7. Sees Her Mother As One of Her Mentors
Perez has stated that she sees her mother as one of her mentors. In particular, she seems to draw inspiration from her mother when it comes to balancing her roles as a mother, a wife, and a professional, which is something that she shares with a lot of other modern women. Interestingly, Perez points out that this kind of multi-tasking has always been true for women, seeing as how the overwhelming majority of women were expected to work while also being both a mother and a wife throughout the overwhelming majority of human history.
8. Learned the Importance of Passion From Her Father
On a related note, Perez has learned plenty of life lessons from her father as well. For instance, her father was the one who taught her the importance of having passion for her chosen path in life because that makes progressing in it that much more rewarding. Certainly, there will still be bad to go along with the good even when people choose to do something that they are passionate about. However, the bad will be balanced out by the good when people do what they love.
9. Inspired to Go Into Law Because of Her Parents
Speaking of which, Perez was actually inspired to go into law because of her parents. In short, her parents are Colombian immigrants who faced considerable discrimination. For example, her father's accent meant that he had limited job prospects, with the result that he was forced to spend five years working at a janitorial job that was situated 30 minutes away from their apartment. Due to this, he couldn't see his family save on the weekends because the travel costs would have been too high otherwise. Fortunately, Perez's father went on to go to medical school before becoming a true success in his chosen field, but Perez was nonetheless inspired to go into law to give a voice to those who are discriminated against.
10. Good At Social Networking
When she was still a law student, Perez was already very active when it came to social networking, as shown by her effort to surround herself with excellent law students as well as excellent law professors. Essentially, she saw this as being very important because there were and still are so many lawyers out there, meaning that she needed something to make herself stand out. Excellence was her solution, but excellence tends to go much further when combined with a good social network, which is as true in the present as it was in the past.