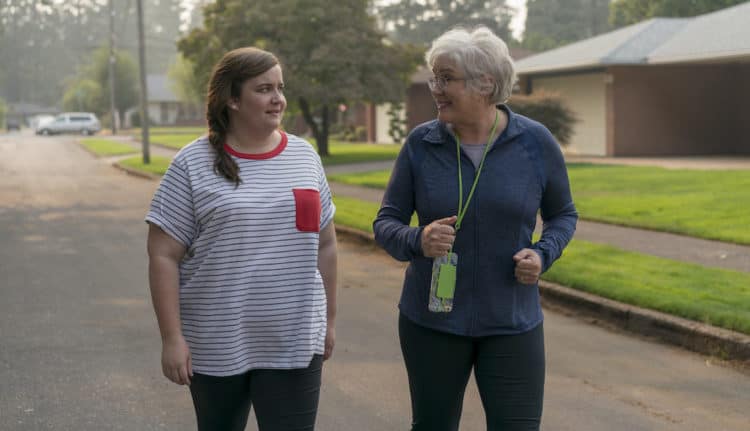 Anyone who watched SNL during its glory days of 1990-1994 will remember Julia Sweeney as the frumpily androgynous "Pat". Since parting ways with the show, she's become known for her candid, deft, and unfailingly humorous treatment of everything from cancer to motherhood to atheism. 10 years ago, she "retired" from show business to concentrate on raising her daughter. Now she's back, and with two successful projects (Hulu's Shrill and Showtime's Work in Progress) already under her belt, she's clearly lost none of her charm since we last saw her. Find out more with these ten quick facts.
1. She trained as an accountant
After graduating with a double major in Economics and European History at the University of Washington, Sweeney moved to LA to begin her career as an accountant for Columbia Pictures and United Artists. Although she'd never harbored any dreams of performing, the naturally comedic Ms. Sweeny eventually decided to exercise her funny bone by enrolling in classes with the improvisational comedy troupe, The Groundlings. She was eventually asked to join the troupe's Sunday Company, and it was there that she began to develop characters such as Mea Culpa and Pat.
2. She had a fleeting appearance in Pulp Fiction
In the early 1990s, Sweeney wasn't only honing her skills as a comedian- she was also building her reputation as a serious actress. Her first appearance on the big screen came in 1990s Gremlins 2: The New Batch. Since then, she's featured in numerous films, including Pulp Fiction, Stuart Little, Monsters University, It's Pat, Honey I Blew Up the Kid, Coneheads, Stuart Saves His Family, Vegas Vacation, and Meet Wally Sparks.
3. She never fit in on SNL
While we may have fond memories of Sweeney on SNL, it's clear she doesn't have the same. Sweeney joined the show during the heyday of Adam Sandler and Chris Farley, and, despite being friends with the other comics, she never felt she really belonged in what often felt like an all-boys club. "They didn't get me comedically. I would only get cast as the example of the ugly girl and then they would say, 'We have to hire a model to play the pretty girl because there's no girl here who could play that'," she recalled to Uproxx.
4. She has an adopted daughter named Mulan
When Sweeney adopted her daughter, she worried so much about how people would perceive her raising a Chinese girl named Mulan (which, as it so happens, was the name she was born with, and not a reference to the Disney movie of the same name) that she considered changing it. Despite her best attempts, Mulan would never answer to anything but her birth name, leading Sweeney to weather the embarrassment and eventually just come to accept it.
5. She thinks Tina Fey is a genius
When Sweeney was part of SNL, there were only three women in the entire lineup. The woman, or "genius", she credits with bringing diversity to the all-boys club is Tina Fey. "I feel like Tina Fey was the genius that broke open SNL and turned it into a much better place," she tells Deadline. "She opened possibilities for women. I think it took Tina and Beth (McCarthy Miller) for people to see that women could be just as funny and that you could have lots of women and find lots of things for them to do. SNL, to me, is now pre-Tina Fey/post-Tina Fey."
6. Pat wasn't always androgynous
When Sweeny initially conceived the character of Pat, androgyny wasn't part of the equation. When she dressed up as him, he was just a "frumpy fat guy". It was only later, after seeing the audience's response to a joke about Pat questioning his/her gender, that the "man or woman" gag became a theme. "Pat is not trying to present as non-binary," Sweeney explains. "Pat's not going out of Pat's way to not look one way or the other. Pat just doesn't happen to look one way or the other to most people."
7. Storytelling is at the heart of her art
Julia Sweeney is a funny woman. Fact. What she also is a fine storyteller, a quality that lies at the heart of everything she does. "Storytelling is the way the mind knows itself, and that means every human being is a storyteller," she tells Storyteller. "I always did love to tell funny stories. When I was young, I didn't think about the grand meaning of it or understand the architecture of it, much less the psychology of it. But as I got older, I got curious about this aspect of myself and of everyone else. So, yes, it's very important to me. And the humor, well, it's the sugar that keeps people listening. For me it's essential."
8. She was voted funniest girl in class
Sweeney may not have broken into the comedy scene until the 1990s, but her history of making people laugh goes all the way back to childhood. "I can't remember when making people laugh wasn't central to my interaction with the world," she tells Broadway World. "I was voted funniest girl second grade through eighth grade at my Catholic Grammar School – which had a high value on comedy – hence the awards. I think that's one great thing about Irish Catholics, they take comedy seriously."
9. She took a ten-year break
Ten years ago, Sweeney quit show business to raise her daughter alongside her husband, Michael, in Illinois. In March 2019, she came back with a bang in Shrill, Hulu's smash comedy series based on Lindy West's book "Shrill: Notes from a Loud Woman". In her absence, the world of entertainment changed dramatically, and Sweeney is still finding certain things difficult to adjust too. "It is shocking just to be older in Hollywood," she tells AARP. "People try to be nice to you in that way like you're an 'elder.' When I left, you still went in to audition. Now you have that whole contraption you stick your iPhone on, and you send in your audition. The executives are much younger. It's like what Pamela Adlon, 52, said about the young people in the industry: It's like their zombies or something, and there's more of them, and they just keep coming and coming."
10. She's a published author
Along with her stage and screen credits, Sweeney can also claim to be a published author. Her first book, "It's Pat!: My Life Exposed" was released in 1992, with her second and third, "God Said, "Ha!", and "If It's Not One Thing, It's Your Mother" coming in 1997 and 2013 respectively.