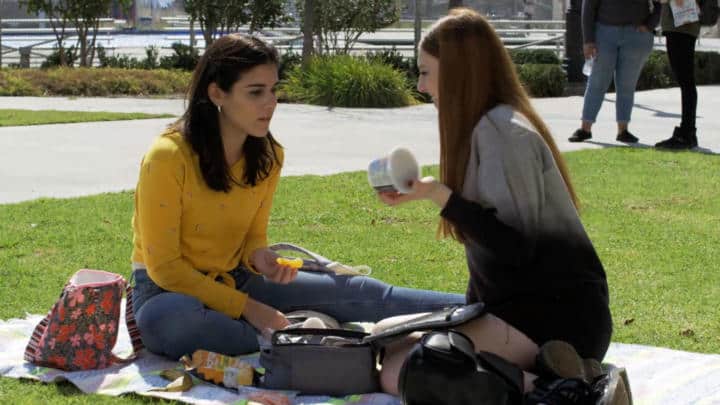 Juliana DeStefano has been working in the entertainment industry for over a decade, but the last few years have really been good to her. Most people will recognize her from her role as Deandra in the Lifetime movie, Psycho BFF. On top of that, she has also appeared in several TV shows including 13 Reasons Why and Grand Hotel. While her currently resume is already impressive, she's got some even projects in the works for the remainder of the year and leading into 2021. Juliana is definitely someone you should get familiar with now, because she will likely be a household name before it's all said and done. Keep reading for 10 things you didn't know about Juliana DeStefano.
1. She's A Huge Jim Carrey Fan
Juliana DeStefano developed a love for comedy at an early age. Her father did stand-up comedy as a hobby which helped introduce her to the field. When she was a kid, she started watching Jim Carrey moves and instantly become a huge fan of his work as both an actor and a comedian.
2. She's Loved Acting Since She Was A Kid
Comedy wasn't the only thing Juliana fell in love with as a kid. Seeing Jim Carrey helped her develop an interest in performing which ultimately led to her signing up for local acting classes. During an interview with Voyage L.A., she said, "at age 12 and auditioned for movies and Tv all through middle school and high school."
3. Psycho BFF Isn't The Only Lifetime Movie She's Been In
Juliana is well-known for her role in the 2019 Lifetime movie, Psycho BFF (also known as American Psychos). However, that isn't the first TV movie she's done with the network. She's actually kind of a veteran when it comes to working with Lifetime. Juliana was also in the 2019 movie, Smuggling In Suburbia and the 2016 movie, Stalked by My Mother.
4. She's Originally From Texas
Juliana was born and raised in the Houston, Texas area which is where she began her acting career. While Houston is a big city with lots of opportunities, it's not necessarily known for its connections to the entertainment industry. For that reason, Juliana decided to relocate to relocate to Los Angeles when she graduated from high school.
5. She's A Stand-Up Comedian
Acting is what Juliana is best-known for, but it's not the only thing she does. Growing up around comedy inspired her to start a career of her own. She is also a stand-up comedian who has performed at several venues in the Los Angeles area. Juliana's stand up is in sharp contrast to the types of roles she usually plays, but she clearly has a knack for making people laugh.
6. She Likes To Enjoy The Outdoors
Juliana may be on the road to becoming a star, but that doesn't mean she's acting Hollywood. She's still a down to earth person who enjoys the simple things in life. When she isn't busy working, she loves to spend time outside. Some of her favorite things to do are hike and hang out at the beach.
7. She's Struggled With Some Insecurities
Just because Juliana makes her living by being in front of the camera doesn't mean that she always feels confident. She told Voyage L.A. "I ran into a lot of my own insecurities. Always wondering if I'm enough. Pretty enough? Tall enough? Smart enough? The moment I stopped caring is the moment I started to really work as a performer. I️ accepted who I️ was. It's weird how it works that way."
8. She's Been In Several Commercials
Commercials have proven to be a great starting point for many actors. Not only do they pay well, but they can provide exposure for much bigger opportunities. Over the years, Juliana has appeared in several commercials for major brands such as Disney and Pizza Hut.
9. She Was In A Selena Gomez Video
Selena Gomez is one of the biggest pop stars in the entire world. There are countless people who would be willing to risk it all to work with her. Fortunately, Juliana got the chance to do just that without having to risk anything. Juliana made a quick appearance in the video for Gomez' 2017 song, "Bad Liar".
10. She Has Lots Of Other Talents
Juliana is truly a woman of many talents. Acting and comedy are the two things she's most passionate about, but there's a lot of other things she can do. According to her resume, Juliana can play the guitar, jump on a pogo stick, rock climb, roller skate, and play basketball.