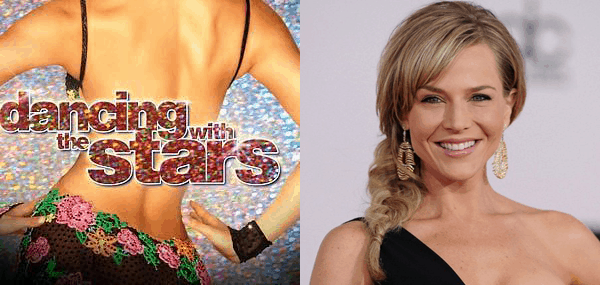 It's been quite a day for TV fans on Twitter.
Another little nugget of awesome dropped in our laps courtesy of the social media site this afternoon, when host of ABC's Dancing With The Stars, Tom Bergeron, proposed a casting choice for the upcoming season…one with network "synergy written all over it."
If Bergeron gets his way, Julie Benz star of ABC's No Ordinary Family would speed-race her way across the dance floor this spring. And based on Benz's response, she'd be all over the opportunity like sparkle on a sequin.
Here's the transcript of their brief exchange:
Bergeron: Post-vacation, I'd love 2 see you pulling double duty. No Ordinary Family & DWTS. U should be able 2 do a REALLY fast quickstep!
Benz: I would love to!!!!!
Bergeron: Good to know! It has synergy written all over it. And spray tan. And teeny little costumes!
Benz: some do it for the dance… I would do it for the spray tan and teeny sparkle costumes!!!
Whether or not Bergeron has any pull regarding casting choices, this sounds like an interesting proposal and certainly a smart one should ABC and the DWTS producers go for it.
Currently in its freshman season, No Ordinary Family has been having difficulty in the ratings during the last few weeks, despite its continually improving creative stride. What better way to pull in more viewers than to have one of your stars compete in one of the highest rated shows on your network?
As for what DWTS would get out of it, they'd have the opportunity to bring some class back to their ballroom by adding to their cast a current, relevant celebrity who has actually earned the "star" label, rather than continuing to turn their dance floor into the reality TV equivalent of a 10-car pileup by trolling the tabloids for pseudo-celebs without any star-quality whatsoever.
If Bergeron can pull some weight to make this happen, you can bet I'll be back amongst the throng of those frantically phoning in their votes on Tuesday nights.
What do you think? Would you love to see Julie Benz join the cast this spring? Who would you want to see her paired with? Let us know in the comments below.