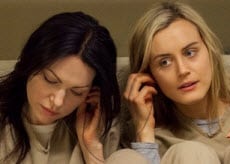 Yesterday, Buzzfeed was reporting that That 70s Show alumni Laura Prepon was leaving her role on Orange is the New Black, only appearing for perhaps a handful of episodes in season two to wrap up her storylines with Taylor Schilling's Piper.
Now, Netflix is pushing back, saying that report is not true, and nothing has been settled yet with the season. Here's what they told E! Online.
"It's not accurate," a Netflix rep insisted. "Our season is still developing and nothing is confirmed."
It did seem rather odd that the character responsible for most of the central conflict on the show would depart, as the dynamic between Piper and Prepon's Alex is the central premise for most of the drama.
That said, it's also easy to see how even a major character could be written out of the show. She could simply be released for good behavior, or some other such plot point, or she could die, though the former is more likely given the tone of Orange is the New Black. It's dark at times, but I don't think they'd literally kill Alex off.
That said, I do think her character needs work. Despite being the sexiest member of the cast (to either gender, I imagine), Alex is probably the least dimensional of the characters. Even crazy eyes sort of has a more interesting story than her. If she does come back, I hope they give her more to do.