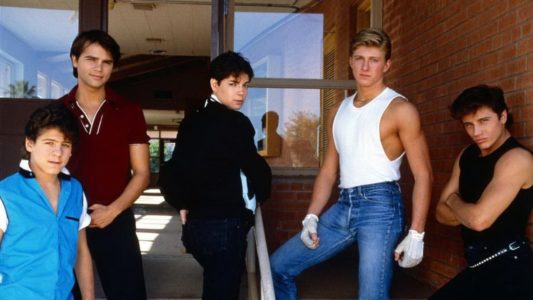 There are plenty of movies out there that couldn't be made today without ripping up the premise and starting over again thanks to a lot of stereotypes that might be construed as overly offensive. Unfortunately Just One of the Guys is one of those movies and it's too bad really since it was a hilarious movie for its time and still has its charms today. The story is pretty simple and yet how it was taken by gay and transgender individuals was seen as inspiring by a few people. There is a good reason for that since the main character is a young woman that believes she's being held back because she's female, which is still a hot topic in today's society. But with the 35th anniversary of the movie it's easy to see why Kevin Burwick of MovieWeb and many others would comment on this old classic. In terms of the story it was definitely one of the many teen movies that people enjoyed more than a little while growing up since it took the average teenage experience and turned it on its side a bit just to see what might happen. It's not the first time a character tried to play themselves off as a member of the opposite sex, far from it, but it was one of those that managed to stick in a lot of people's memories. Maybe it had something to do with the main character being given a reference that had something to do with Ralph Macchio, or maybe it was the fact that William Zabka took up the role of a bully once again. Something definitely tipped this one into the memory banks of a lot of people, and it's a good thing since it was a thoroughly enjoyable movie.
There's been talk of a sequel as of 2014 but it's kind of a hope that such a thing wouldn't occur since the movie was just fine on its own and the constant need for sequels, remakes, and reboots has had such a tumultuous time in the theaters that it's kind of relief when such projects are set aside or left to development hell since otherwise the attempts tend to go awry more often than not. This movie was one of those that a lot of folks would rather see untouched since it explored a time in teenage life when a lot of people are uncertain of their course and are all too certain that something, or someone, is holding them back for one reason or another that makes little to no sense. Being released in the mid-80s does mean that the movie came out when women were already attempting to make their way forward in the workplace and were making great strides in becoming more independent and taking their place in society as professionals in various fields that were eager to earn the same kind of respect that men were given so regularly. The main character after all was irked enough to try and become a man for the duration of the movie in order to see how the other half lived, so to speak, and to find out the advantages that men had that women didn't. While it might not have gone over everything, it did manage to show from a certain perspective enough differences between the sexes that made it obvious that no one is perfect, and that hard work and effort does make a big difference whereas appearance and your gender doesn't. Jennifer M. Wood of Mental Floss has a few facts about the movie you might find interesting. A lot of people might want to argue that claim even now, but in the movie it was made pretty clear that regardless how much that thought persists, hard work and determination, not gender, is typically what will give almost anyone a push towards what they want. Equality of opportunity is the name of the game after all, not equality of outcome.
At this point a sequel sounds highly ambitious but a remake or a reboot would likely be the course that one would see taken with this movie since it would likely be depicted either as a teen movie detailing the vast difference between genders, which are now said to be social constructs, or a movie that would hopefully just go down the same path and ignore the critics and fans by becoming another teen comedy that could benefit from the laughs and gags that a lot of people still find hilarious. There's no telling if it will ever happen, but likely as not if it does we'll see plenty of social commentary within the movie since that's the era we're living in and it's what a lot of people tend to comment on whether they agree with it or not. It'd be great to see cameos from the original stars as well, but again, if it does ever happen it won't be anytime soon. Roy Ivy and Adriane Neuenschwander from Consequence of Sound made a list of movies that might never be made in today's PC climate, and unfortunately this movie was one of them.