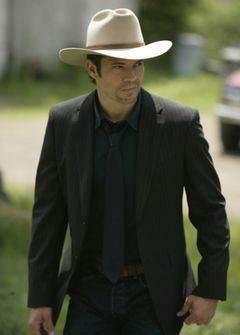 Raylan Givens will live on to snark, brood, and shoot, as FX has renewed sophomore drama Justified, according to Deadline. The show had been rumored for several days to be receiving a pick up in time for FX's upfront party, which is happening tonight. The other show rumored to be getting a pick up, Archer, still has yet to be confirmed as being renewed.
Based on a story by Elmore Leonard, Justified stars Timothy Olyphant as Raylan Givens, a Deputy U.S. Marshall who is reassigned to his hometown in Kentucky after getting in trouble in Florida. When he gets to Harlan County, he has to deal with his ex-wife Winona (Natalie Zea) and former friend Boyd Crowder (Emmy nominated Walton Goggins), as well as a multitude of small time criminals. Currently Raylan is battling the Bennett family, a major pot dealing family fronted by matriarch Mags (Margo Martindale) with help from her sons Dickie (Jeremy Davies), Coover (Brad William Henke), and Doyle (Joseph Lyle Taylor). Justified also stars Nick Searcy, Joelle Carter, Jacob Pitts, and Erica Tazel.
What do you think about Justified's second season? Are you glad it got reviewed? Do you think its quality has improved season to season? Any hopes for season three?