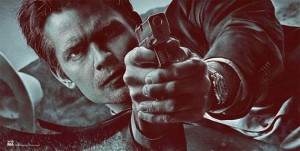 It hardly feels like any time has passed since Justified season 2 went off the air. Maybe that's because the season finale, "Bloody Harlan," was just so insanely memorable. It was probably the best episode of Justified yet, featuring a pretty intense shootout (in which we saw Tim's sniper work in action once again), an even more intense standoff between Loretta (Kaitlyn Dever) and Mags (Margo Martindale), and a sadly satisfying final scene.
But while the season 2 finale seems like it only happened a few months ago, we're already approaching the Justified season 3 premiere. It seems soon partially because of "Bloody Harlan," but also because it's been pushed up a month: while Justified premiered its second season back in February, season 3 is going to hit in January. As such, FX is already pumping out a few trailers for the show. The first trailer hit earlier this month, and you can watch it here. The second trailer hit on Tuesday, and you can watch it below.
The footage used in this trailer doesn't seem like it was taken from the actual third season; it looks more like it was shot for the single purpose of being a promo. Regardless, the scene is cool. Raylan Givens (Timothy Olyphant) and Boyd Crowder (Walton Goggins) stand in an alleyway, peering around the corners of their respective buildings. It looks like they're going to have a shootout, and that's not terribly surprising. After all, they haven't exactly been the closest friends, and Raylan did deny Boyd his revenge on Dickie Bennett (Jeremy Davies) in the season 2 finale.
But as it turns out, Raylan and Boyd are on the same side, charging out into the alleyway, pistol and shotgun blazing, respectively, firing against an unknown enemy. The editing in the trailer seems to show a pretty intentional ambiguity. After all, the main dynamic of the show is between Raylan and Boyd. Are they friends? Are they enemies? Their relationship is the most interesting part of Justified as a whole, and if this trailer indicates anything, season 3 will be no exception.
You can watch the trailer below.
Justified season 3 begins in January 2012.