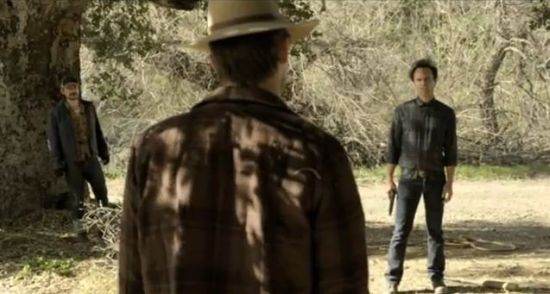 Per Entertainment Weekly, it looks like Raylan Givens won't get to rest on his laurels after triumphing over Mags Bennett, as Justified has officially named its two (yes, two) "big bads" of the season.
It looks like Neal McDonough (Band of Brothers) and Mykelti Williamson (Forrest Gump) have been tapped to raise a little ruckus down in Harlan County. McDonough, who made an appearance on FX's cult favorite Terriers, will be playing a mobster named Quarles that comes to town looking to take over from (presumably) the Crowder family. Williamson, meanwhile, takes on a Mags Bennet-eque figure in Limehouse, a man from a predominantly black town in Harlan County that he's hellbent on protecting.
Justified is on one heck of a run, both creatively and success-wise, as the southern drama made the difficult leap from very good to great in season 2, which brought them some serious support this past awards season. (Margo Martindale was the show's lone Emmy win, for her portrayal of ruthless Mags Bennett.) It'll be interesting to see how McDonough and Williamson fit into the show, but if two seasons of Justified have taught me anything, it's never bet against anything relating to Raylan Givens.
The third season of Justified premieres this January.
What do you think about the casting of McDonough and Williamson? How do you think Justified will manage to top last season?