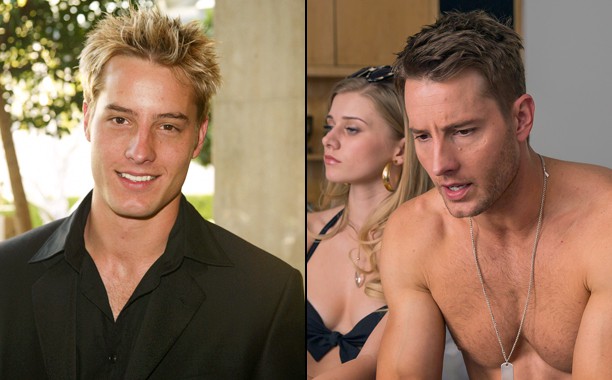 American actor Justin Hartley is known for his recent role in thee NBC drama series "This Is Us." You may also remember him from his recurring role as Patrick Osbourne in the TV series "Revenge, " but do you remember what he did prior to that? It might surprise you to find out. We've put together a collection of the five TV shows that you probably forgot Justin Hartley was in. See if these scenes trigger your memory and give you an "aha" moment.
Race You to the Bottom (2005)
Justin appeared in a minor role in the movie "Race You to the bottom" in the role of Joe. This film was a romantic drama about a travel writer named Nathan with a complicated life. The bisexual guy develops feelings for Maggie as they travel in the wine country of California on their work assignment. Hartley does a good job with a role that is believable as he gets into the character. Now we know why they cast him for a part in the series "This Is Us."
Passions (1999-2008)
Justin Hartley appeared in this television drama in his recurring role as Fox crane from 2002 to 2006. The series focused on the Crane family who were wealthy and powerful. They ran the town of Harmony from their Raven Hill mansion. The family is the epitome of dysfunction and their interactions show just how far people can slide downwards when they are bent on power and greed. Who could forget Hartley's performance in this series? He was at the top of his game as Fox Crane.
Spellbound (2007)
Do you remember Hartley playing the role of Danny in this dramatic film? It focused on a young New York coach who had a big heart and tried to help the needy while she dealt with her own issues. This film smacks with realism and it's one of those movies that really tugs at your heart's strings.
Red Canyon (2008)
Justin also appeared in the role of Tom in this 2008 action horror thriller. The film was about a brutal attack that happened years prior and Regina and Devon must return to their Utah family home to face the memory but their return triggers a chain of grim events. Hartley does a decent job in this horror flick, which shows that he's a talented and diverse actor.
Spring Breakdown (2009)
Hartley played the part of Todd in this hilarious romance that tells the story of three women who go to a popular travel spot that is famous for co-ed college students who like to party on spring break. This is perhaps one of the funniest films that Justin has appeared on but how many of you remembered him in this movie? He didn't have a major role, but his presence in the film was enough to make it count.