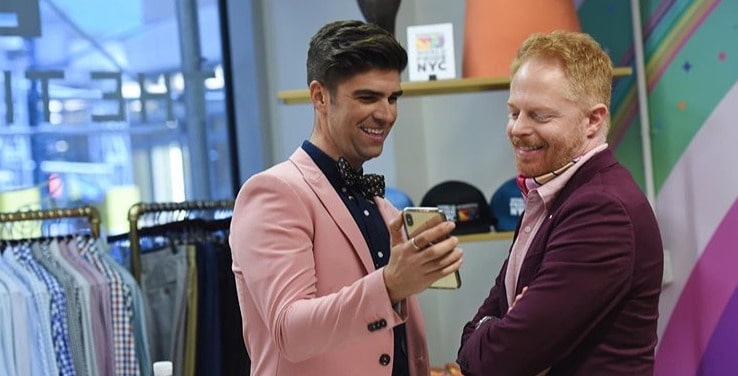 In 2013, lawyer Justin Mikita married Modern Family star, Jesse Tyler Ferguson, after several years of dating. He's since gone on to enjoy the many spoils that come with being one half of a celebrity couple (photo shoots, press interviews, event openings, etc., etc.). That's not to say he's not seen his own success as well- as a lawyer, Mikita was instrumental in overturning the contentious Prop 8; as a producer, he's about to make one of 2019's most hotly anticipated documentaries; as a company owner, he's made some seriously fabulous bowties. Read on to learn more.
1. He married Jessie Tyler Ferguson in 2013
In September 2012, Mikita and Jessie Tyler Ferguson announced their engagement. "It's true, I popped the big Q," Ferguson revealed in a video upload. "I said yes!" Mikita answered. By the time of the proposal, the pair had been dating for 2 years, after first meeting in 2009 at a Hollywood party. They married at a private ceremony in New York in July 2013, followed by an evening bash for all their friends.
2. He co-owns Tie the Knot
Along with his husband Ferguson, Mikita co-owns the company, Tie the Knot. The nonprofit advocacy foundation advocates for marriage equality and for civil rights for gays and lesbians… something it firmly believes you should do while looking dapper. To support its aim, it releases a range of stylish bow-ties each season, with all proceeds going in support of LGBT organizations. Following their fourth wedding anniversary, the pair released a special edition formal wedding collection of ties inspired by the colors and patterns from their nuptials.
3. He's an executive producer on Stonewall Forever
In April 2019, it was announced that Mikita and husband Jessie Tyler Ferguson would be joining forces with director Jeffrey Schwarz to co-produce Stonewall Forever, a new documentary on the legendary NYC institution and the ongoing fight for LGBT civil rights. The documentary will focus on the night of June 28, 1969, in an era when gay rights where non-existent and even holding the hand of a member of the same sex was enough to get you arrested. On the night in question, the police raided the Stonewall Inn, a gay bar in New York City, only to find the patrons in no mood for their harassment. The events escalated into city-wide riots that are widely credited as sparking the flame of gay resistance.
4. He's a cancer survivor
In 1997, Mikita was diagnosed with Hodgkin's lymphoma, a rare form of cancer. At the time of his diagnosis, he was only 12 years ago. The following 2 years saw the teenage Mikita spend almost as much time in hospital undergoing extensive chemotherapy treatment as he did at home. The initial prognosis was poor, and his parents were forced to begin preparing for his death. Fortunately, Mikita proved a fighter and in 1999, he was declared to be in remission. He's now been fit, well and cancer- free for 20 years.
5. He helped overturn Proposition 9
In 2008, California passed a state constitutional ballot known as Proposition 8 that effectively negated the California Supreme Court's May 2008 appeal ruling, In re Marriage Cases, which found the previous ban on same-sex marriages unconstitutional. The proposition caused an uproar among supporters of LGBT rights, including Mikita, whose campaigning activities, along with those of many others, ultimately helped overturn the proposition. Funnily enough, his celebration of the overturning made it all the way to his husband's hit show, Modern Family. "So the company he worked for, the American Foundation for Equal Rights, shot a lot of footage of celebration day the day that Prop 8 was overturned," Ferguson told the Daily Beast. "We were actually using footage from that day in the episode. I'm watching it in the scene on the computer and I call Cam and say, "We won! We won! It's amazing! We can finally get married." My real-life husband is on the computer screen celebrating the win. It was a crazy moment."
6. Coming out was no big deal
For many gay teenagers, the prospect of coming out to their parents is daunting. Fortunately for Mikita, his experience was a smooth affair. His parents recognized their son was gay from the time he was young, so he was always comfortable enough in his sexuality around them to avoid the big 'coming out' moment. Mikita has since spoken publicly and often about his gratitude to his parents for their support.
7. He's appeared in several features
He may not have quite the same list of credits to his name as his famous husband, but Mikita has, nonetheless, made several appearances on TV. In the list is HRC Americans for the Equality Act Awareness Campaign (2019), which sees Mikita join numerous other figures from sport, entertainment and other fields in discussing the need for the Equality Act – a civil rights bill that will offer comprehensive, non-discriminatory rights to millions of LGBTQ Americans. He's also appeared in 8 (2012), a documentary following the federal trial of Proposition 8, and Can't be Heaven (1999), a comedy-drama directed by Richard Friedman.
8. He was involved in a fatal car crash
In November 2014, Mikita was involved in a fatal car crash when he attempted to make a left turn while driving his Audi and hit an oncoming motorcycle. The biker, Nick Trela, died as a result of the injuries he sustained in the crash, but Los Angeles City Attorney decided not to press ahead with charges against Mikita. Mikita stayed quiet on the tragedy, releasing only the statement, "This is a horrible tragedy. I want to respect the family and the process, so I am not going to discuss any details of the accident or the complaint at this time."
9. He's released a bowtie to celebrate Pride
On June 13, 2019, Mikita and Ferguson stepped out in celebration of Tie the Knot's first east-coast pop-up event at the Tie Bar in New York City. The event saw the foundation give the Tie Bar a designer makeover to celebrate the lead up to the NYC Pride Parade. "We have been wanting to do something big for Pride for years, so I am so excited for this collaboration with The Tie Bar building the go-to collection and location for all your Pride needs," Ferguson said in a statement.
10. He's estimated to be worth $2 million
Thanks to his work as a lawyer, producer, bow tie company owner and husband of one of America's most successful actors, Justin Mikita is estimated to be worth around $2 million.