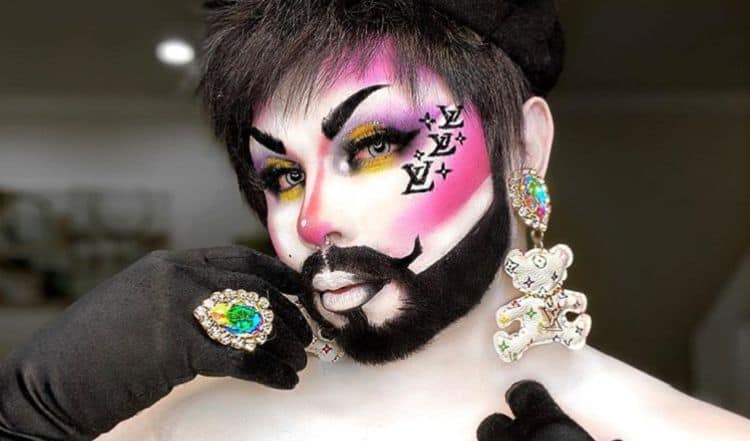 Viewers of Drag Race season 10 will remember the season for many things, surprise exits being just one of them. Kalorie Karbdashian Williams, the second contestant to get the chop, was one of the unlikeliest, although with her bubbly personality, body-positive attitude, and killer humor, we knew it wouldn't be the last we'd see of her… as, indeed, it wasn't. To find out more about Drag Race's very first New Mexico queen, keep reading.
1. The Wicked Stepsister
Figuring out how some drag queens landed on their stage name can be a challenge. With Kalorie, it's staring you straight in the face. A self-proclaimed Kardashian uber-fan, Kalorie sees the sisters as representative of everything she'd like to be… but being on the larger side, she knew that if she wanted to become part of the clan, she'd need to take a slightly different approach. "I knew I was never going to fit in with the Kardashians," she told VH1. "So, I figured I'd be the wicked stepsister and become Kalorie Karbdashian."
2. Miss Rising Star
She might not have claimed that $100,000 cheque and the coveted title of "America's next drag superstar", but Kalorie had already won her fair share of awards by the time Drag Race came along. Two of her proudest titles to date include Miss Rising Star and Miss Duke City 2016.
3. Kind at Heart
Kalorie may not have lasted the distance on Drag Race, but she was there long enough to make, and leave, a big impression. With her big personality, inimitable style, and huge heart, she quickly won her place in the sisterhood, winning over millions of fans in the process. For Kalorie, kindness is king, and it's for that she'd like to be remembered. "I'd like Kalorie to be known for being kind. One of the biggest things that my mom always taught me was to always be kind to people," she said via Bustle. "I could be just saying I want to be kind because it starts with a 'K' but I'd really like for people to remember me for being kind."
4. Representing for New Mexico
When the contestants of Drag Race season 10 were announced, New Mexico went into celebratory mode. With Kalorie, they had their first ever Drag Race contestant. Waving the banner for New Mexico was obviously a proud moment for Kalorie, which made her early exit all the more upsetting. Not only did she feel disappointed on a personal front, she also felt she'd let down her state. "That was truly my biggest concern, really. You have all of these emotions, you're not sleeping a lot, and I was really just beating myself up and thinking that New Mexico would think I was a failure," she told Hornet. "That was really just me, though, getting totally into my head and feeling super defeated."
5. Low Key Nerd
Kalorie is a self-confessed 'low key nerd', with some of her favorite things including Power Rangers, Pokémon, and cartoons like Sailor Moon and Dragonball Z. Slightly less nerdy, she's also got a passion for incorporating her hobbies into her style, as anyone who's seen some of her more widely eccentric costumes will tell you.
6. Hitting Back
When Kalorie won the lip sync battle against fan-favorite Vanessa Vanjie Mateo, social media exploded….and not in a good way. Despite Kalorie winning the battle fair and square, Drag Race fans didn't shy away from telling the world exactly how disappointed they were at Miss Vanje's departure, nor in letting Kalorie know they put the blame squarely on her shoulders. Not one to take things lying down, Kalorie issued a very forthright reply to the haters. After shutting down their negativity with some straight-taking, she ended her rant with the comment, "Online hate is going to get you nowhere. I may not have the best drag, it may not be as polished as some. But I made it to Drag Race. Did you? On your first try?? I think not. So stick that in your tea and drink it right up." Judging by how quickly they scurried away, we're guessing they did exactly that.
7. No Ill Feelings
She may have sashayed off Drag Race a lot sooner than she'd have liked, but Kalorie has nothing but positive words to say about the show, telling Out, "I am honestly just so blessed — I'm on cloud nine. It's just a phenomenal experience that I got to be there. There are so many queens that wish they could have this opportunity. This year was actually my first time auditioning for the show, it was pretty epic."
8. Embracing Body Positivity
If there's one thing Kalorie is all about, it's body-positivity. Until around 7 years ago, there was a lot more of Kalorie to love, and despite shedding a lot of the pounds since, she's still committed to flying the banner for big girls. Coincidently enough, it was actually RuPaul himself who helped inspire Kalorie to stop beating herself up about her size and start embracing it instead. "I didn't have confidence and I was very self-doubting all the time. I was always hard on myself and I never felt good enough or pretty enough in any form," she told Las Cruces Sun News. "I was watching TV one time and season 2 of 'RuPaul' was on. I was watching these gay men who were very much like me, flamboyant and there were some drag queens on there who were plus-size. These people had all this amazing confidence. I wanted to be them, it got to the point where this art form inspired me and I wanted to inspire other people."
9. Loving the Karbs
You can't always read a book by its cover, but apparently, you can sometimes read into a person's eating habits by their name. The 'Karbdashian' in Kalorie's name is more than just a hat-tip to the Kardashian's; it's a nod to her favorite type of food. So, what "karbs" tickle Kalorie's fancy the most? Potatoes. Chip them, mash them, fry them… whatever you do with them, KWK's gonna love them.
10. The Missed Opportunity
By losing Kalorie so early in the season, we missed out on something that could have gone down in Drag Race history. Before her departure, Kalorie was planning something very special for Snatch Game… let's just hope that someday she gets a second chance at it. "I wanted to do a total plus-sized Kim Kardashian that was obsessed with food," she told Out of her plans. "I had little snacks I wanted to hide and eat and I wanted to figure out how to sneak in a pizza box."