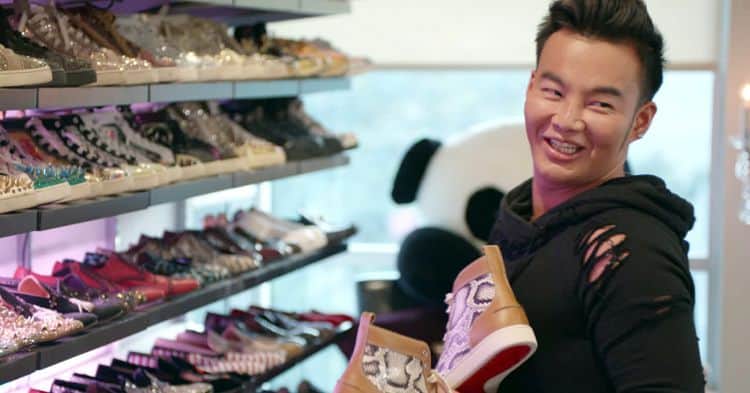 Netflix really has found its groove in the past year or so. They're the go-to for all things entertainment, and they've managed to make many of us forget we even need regular television. Everything that's good is on Netflix or you can download an app – and you don't even need regular cable or satellite television any longer. Their new show "Bling Empire," is one that has people talking all the time right now. It's a binge-worthy show according to those who have already watched it, and we want to get to know the stars. Kane Lim is one of the men on the show how has a lot going on, and fans are already obsessed. Who is he?
1. He's a Billionaire
Well, he's not technically, but his father is. His father is one of Singapore's shipping billionaires, but his son is not in the family business. He decided it wasn't what he wanted to do with his time, and that's all right. We are certain he is enjoying his family money, however.
2. He's in the Fashion Business
He has his own fashion line. He launched the line when he was a teenager, which is really cool. He was only 17. His dad helped him out a bit, which is always a nice thing when you're starting a new business, and he has managed to thrive ever since. He became a self-made millionaire by the time he was 20.
3. He's In Real Estate
Any good millionaire knows that you cannot just put all your eggs in one basket, so he's made it his mission in life to find other lines of work, too. He's a real estate mogul as well as a fashion line designer. He likes to invest, and he likes to do philanthropic work to help himself pass the time and do good things.
4. He Says He's Not Spoiled
He once said that unlike other kids in Singapore who grew up with wealthy families, he did not grow up spoiled. His father did not give him everything he wanted as a child. Instead, he only spoiled his kids with the most important things. He gave them the best educations, the best food, and the best travel. He said his father did not give them things like a chauffeur, and that other kids did have those.
5. Shopping is His Therapy
We cannot argue with that, either. Shopping is the best way to forget what's going on in life and to make things better. It's great when you can do it in person, but it's just as good when you can sit down at the end of a long day with a glass of wine and your internet connection and shop online.
6. His Father Loaned Him Money to Start his Fashion Line
We mentioned already that his father helped him launch his fashion line when he was 17, but he was able to pay his father back in full before two months were up. By the time he was 19, he'd already earned his first million in profits, and he was good to go.
7. He's Always Been Pressured
Being pressured to succeed is not uncommon in any household, but it's especially common in his own upbringing. His family is Asian, and they have high expectations in terms of education and success. The fact that they were already successful and wealthy meant that the pressures were just that much bigger in his life.
8. He Knew He Could Have Joined the Family Business
He knew that he could have stayed in Asia and been part of his family's business. It would have been simple. He would have had a good time with it, and he would have done well. However, it's just not what he wanted to do with his life and with his time. He wanted more, and that's what he did.
9. He's Doing Well
If you're wondering if he's doing all right with his own business ventures, the answer is yes. He's only 30, but he is currently worth an estimated $20 million. There's nothing too shabby about that if we are being honest.
10. He's Relatively Private
Perhaps it's an oxymoron to say that a reality star is a private person, but he doesn't share too much about his personal life. He shares the things that fans want to see – his collection of exceptionally luxurious items, for example, and he is good to go with that one. He has a good time with that, but he doesn't share too much of the personal stuff.