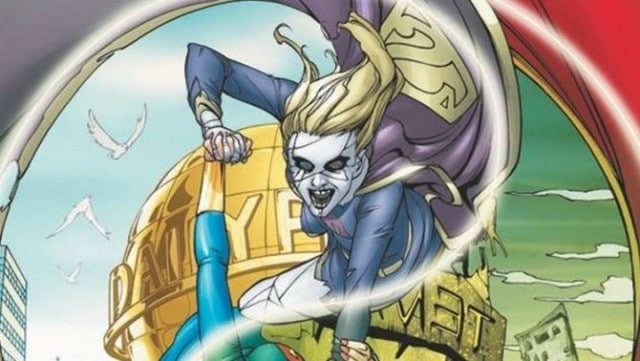 Another infamous DC villain is heading to Supergirl, and when she arrives in National City, things will be getting pretty bizarre. That's right, Kara will soon be battling with Bizarro-Girl on CBS' superhero series.
The news was first revealed by Supergirl showrunner Andrew Kreisberg (who is also an executive producer on Arrow, The Flash, and The CW's upcoming spin-off Legends of Tomorrow) on Kevin Smith's Fatman or Batman podcast and first reported by the website Heroic Hollywood. During the interview, Smith and Kreisberg discussed the villains coming to Supergirl, which is when the showrunner mentioned about the upcoming debut of Henry Czerny's Toyman (who will be the father of Jeremy Jordan's Winn Schott) and also that "we got Bizarro [coming up]."
Now, while Kreisberg didn't specify which Bizarro he was exactly talking about, it's safe to assume that it will be Bizarro-Girl, who in the comics is "a regular Bizarro from Bizarro World that was sent in a rocket along with Bizarro #1 to escape from something known as a Godship, which was attacking their planet." Additionally, this villain has all of the same abilities that Supergirl possesses, although some of her powers may be reversed; for instance, she has "freeze vision" instead of heat vision.
Bizarro-Girl is the latest big-name villain to head to Supergirl. Along with the upcoming appearance from Toyman, the show has also given fans Red Tornado, Livewire, and, most recently in the midseason finale, the Kryptonian Non. To hear Kreisberg talk about Bizarro and Supegirl's other villains, listen to the podcast around the 52-minute mark.
Supergirl is currently on its winter hiatus. It returns with new episodes beginning on Monday, Jan. 4, at 8 p.m. on CBS.