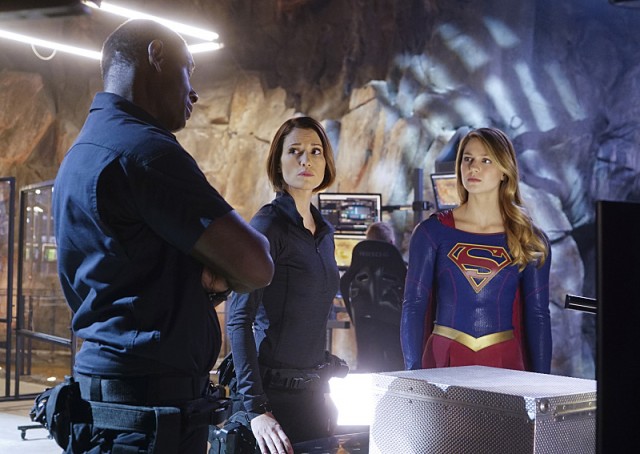 Supergirl season 1 episode 12 is promising to be quite bizarre!  You might be thinking that nothing could top last week's White Martian  – because that thing was so scary looking! (If you missed the episode, be sure to check out the Supergirl 1 x 11 review!)  There are spoilers ahead for Supergirl season 1 episode 12 – which airs tonight!  You've been warned, read on at your own risk!
This week's monster/supervillain isn't so much scary as creepy! Here's the CBS Press release description for the episode:
"Bizarro" — Kara faces off against her mirror image when Bizarro (Hope Lauren), a twisted version of Supergirl, sets out to destroy her. Â Also, Kara grows closer with Cat's son, Adam (Blake Jenner), on SUPERGIRL, Monday, Feb. 1 (8:02-9:01 PM) on the CBS Television Network.
If you saw last week's episode you likely have already figured out that Bizarro is the unfortunate girl Maxwell Lord (Peter Facinelli) had hooked up to machines in that bio locked office. Â Still, in this Supergirl season 1 episode 12 sneak peek we get to see just how crazy this man is. I mean, who wants to be Dr. Frankenstein?
[youtube https://www.youtube.com/watch?v=meosma3i2Ho?rel=0&showinfo=0]
Maxwell Lord, that's who!  You know a character's is nuts if they think Dr. Frankenstein is one to be admired.  Even Bizarro's face cracking up the way we saw in the promo is very much in the tradition of the monster Frankenstein.  If there were any doubts before that Max Lord is a total sociopath they are now completely gone!
The other part of this episode is Kara going out on a date with the son of Cat Grant (Calista Flockhart) has an interesting and awkward effect on the other men in her life!
[youtube https://www.youtube.com/watch?v=7pvFImrB9xk?rel=0&showinfo=0]
I feel sorry for Winslow "Winn" Schott (Jeremy Jordan). Cara knows how he feels about her. This whole, "let's pretend I never tried to kiss you" thing doesn't look as those it's going to be working out for him. James Olsen (Mehcad Brooks) I don't feel sorry for at all though. He has a girlfriend, so he'll just have to grin and bear it. Especially since from the looks of things, Kara and Adam are hitting it off well!
[youtube https://www.youtube.com/watch?v=X5vpfJqZHdk?rel=0&showinfo=0]
Of course, some of that great chemistry may be because the actors are married in real life!
Are you excited for Supergirl season 1 episode 12? I know I'm looking forward to it! Â Leave a note in the comments if you'll be watching it live!