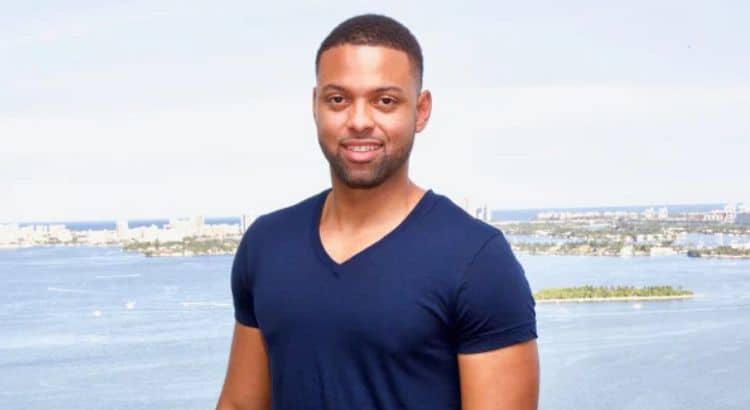 If you were to think of your perfect definition of a good catch, you'd probably find yourself listing all of the qualities Karl Smith has. He's handsome, smart, successful, and caring. But will those things help him stand above the competition during season 17 of The Bachelorette? Karl would like to think so. As a contestant on the show, Karl has already been getting a lot of attention from Katie and the viewers at home. On paper, it's easy to see why Katie would be drawn to him, but only time will tell if they prove to be a good match. If things don't work about between him and Katie, though, there are probably a lot of people at home who would love to shoot their shot. Here are 10 things you didn't know about Karl Smith.
1. He Lives In Miami
We weren't able to find any information on Karl's upbringing, so it's unclear if Miami is his hometown. However, we do know that he lives there now and it looks like he's been there for a while. As you can probably imagine, Karl loves to take advantage of all of the great things the city has to offer.
2. He Is A Success Coach
If Karl seems like a natural in front of the camera, that's because he's no stranger to being in front of one. He works as a success coach and he travels around the country doing various public speaking arrangements. He is also the founder of a company called Next Level Success.
3. New Year's Day Is His Favorite Holiday
When most people think of their favorite holiday, Christmas and Thanksgiving are the first things that come to mind. However, neither of those is at the top of the list for Karl. Instead, he prefers New Year's Day over anything else. He sees the holiday as the perfect time to start fresh.
4. He Is Popular On Social Media
Most people on The Bachelorette end up with a large social media following thanks to their time on the show, but Karl has been popular online long before the show ever came calling. He currently has more than 40,000 followers on Instagram, and it's likely the result of the work he's done as a success coach.
5. He Is 34
One of the things that's interesting about The Bachelorette is the fact that there's a pretty big age range among the contestants. At 34-years-old, Karl is four years older than Katie and almost a decade older than some of the other guys on the show. This might work in his favor because Katie is 30 and she might feel that some of the younger guys aren't as ready to settle down.
6. He Is Bilingual
The most we learn about Karl, the more impressive he becomes. According to his Bachelorette bio, Karl can speak English and French although it's not clear if he's fluent in French. If trying to win Katie over in English doesn't work, he can easily switch to the more romantic language.
7. He Has A Great Sense Of Style
Karl doesn't have any connections to the modeling or fashion industries, but that doesn't mean he can't put on a nice outfit and strut his stuff. By the looks of his Instagram posts, Karl has a good eye for fashion and he loves to dress up in a nice suit. This might also help him get Katie's attention.
8. He Enjoys Chess
Playing games is sometimes considered a childish thing to do, but when it comes to chess it's a totally different story. The amount of concentration and strategy that are required for a game of chess is certainly nothing to laugh at, and this is something Karl fully understands. Karl is an avid chess player, but there's no information to suggest he's ever played as more than a hobby.
9. He Puts Family First
Karl hasn't shared much information about his family, but those his some of his Instagram posts it's obvious that he's a family-oriented person. While we don't know if he has any nieces or nephews, we do know that Karl is a proud godfather. He also appears to have a sister named Corinne.
10. He Writes Poetry
If Katie is into poetry, she'll definitely appreciate the fact that Karl is a poet. Karl's bio states, "Karl is the type of guy who will take you jet skiing on a date and then read you a poem he wrote himself". Since everybody loves a little romance, the fact that he writes poems might give him a little bit of a competitive advantage.