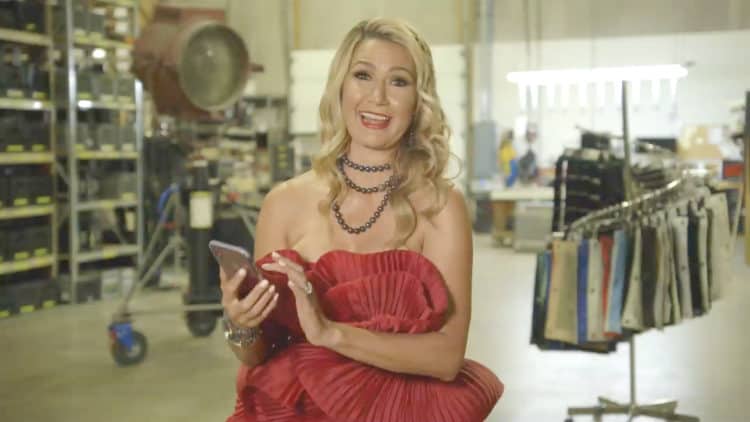 Kary Brittingham has recently joined the Bravo television reality series "Real Housewives of Dallas." She replaces Cary Deuber for the fourth season, but will she make the grade when following in the footsteps of a main member of the cast? She's an interesting person in her own right, with a personality that will win over some fans, while others may still be sad over the departure of Duber. We wanted to know more about the new cast member, and we're sure that you do too so here are 10 things that you probably didn't know about Kary Brittingham.
1. She was born in Mexico
Kary is a native of Guadalajara, Mexico, and she spent her earlier years growing up in the country. She and her family moved to the USA when she was in her teenage years, so she's gone through the school system. She enrolled in college courses at Southern Methodist University in Dallas at the age of 19 and became a Texan at that time.
2. Kary can hold her own in a drama
Kary doesn't really have a lot of fear when it comes to the opinions of others or what they may think of her. Joining the cast of RHOD is certainly something new for her, but at the age of 49, she knows who she is and she doesn't hesitate to speak her mind. She sees herself as a feisty woman, and that tells us that there's a little fire in her, so it might pay the other cast members to be nice to her.
3. She's married to her second husband
Kary's husband is Eduardo Brittingham. This is the second marriage for both of them. Each is divorced, and they were introduced through a mutual friend. They hit it off and were married. Although the couple has had their ups and downs in the relationship, they've been together for nearly ten years. They seem to be doing well enough at keeping it together, but Kary commented that it's difficult to keep the marriage fresh after a decade of being together. It takes a lot of work.
4. Kary and Eduardo have children
Kary and Eduardo have one child together. Their daughter Isabella is 12 years old. Kary also has three other kids from a previous marriage which include a son named Alex, and two daughters named Sofia and Olivia. When you combine them all, the Brittingham's have four children and that's enough to keep anyone busy.
5. She longs for financial independence
Kary's husband does a good job of taking care of his family financially, but Kary is not satisfied with this. She wants to be more financially independent. The feisty new reality television star is taking matters into her own hands and doing something about it. We learned that she is in the process of launching a new jewelry design business online. There's a web site under construction but it's not yet complete. It will be exciting to find out exactly what kind of jewelry she designs and sells at her online shop..
6. She makes friends quickly
We can tell that Kary has a bubbly personality and she makes friends extremely quickly. Her first round with the ladies on the set wasn't that bad at all, but we did see her clash with LeeAnne a bit. When it comes to drama there isn't one of these ladies who will be able to outdo her we're sure. She'll speak her mind whether they like it or not, and although she and LeeAnne didn't hit it off right away, she seems to be developing good relationships with the other ladies.
7. Kary searches unpleasant topics
Most of us prefer to be uplifted and read about happy stories, but we learned that Kary does just the opposite. She does a lot of Googling to perform research on a variety of topics, but most of them are sad. She shared in an interview that "I like to Google things I read on the news that seem sad." We're not sure whey she looks up sad stories but at least she's learning more about what's going on around her in the real world.
8. Kary is married to an executive
Kary Brittingham's husband Eduardo is an executive. His official title is CEO and chairman for a social media engagement app for Latino communities called Tu Familia. Prior to that, he held the position of CEO and chairman of a company called Advance Global Communications. He has an impressive career in business leadership.
9. Kary Brittingham is a "real" person
Kary disclosed in a Dallas Morning News interview that she's a realistic person who is not deluded into thinking that everyone is going to love her on the RHOD show. She shared that she's just going to be herself and keep it real and those who are going to love her will do so and the same with those who hate her.
10. Kary Brittingham is the first Mexican woman on ROHD
We also learned that Kary is the first woman to come on board in "The Real Housewives of Dallas" to be born in Mexico. She was born in Guadalajara, Mexico and moved to the United States with her family when she was sixteen years old. Brittingham relocated to Texas when she was nineteen to attend college there, and she and her husband Eduardo have made their home in Dallas, where they live close to the Simmons family and enjoy friendship. It's good that the show is getting a bit more diversity for their viewers. We believe that Kary Brittingham is going to be an amazing addition to the group and she's going to become another favorite for some fans.