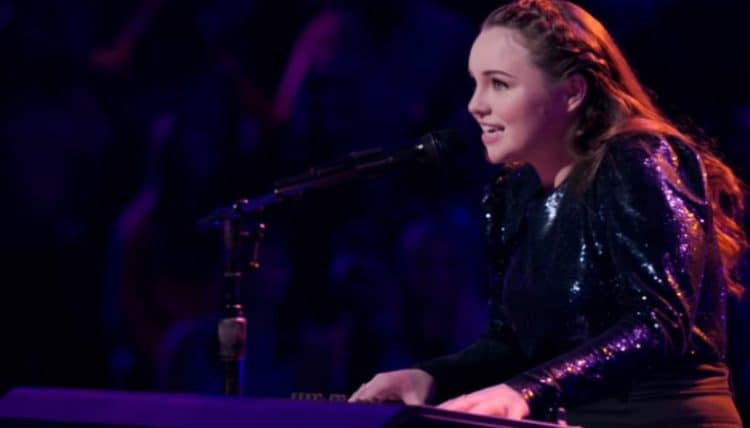 It seems as if the talent appearing on The Voice gets younger and younger every year. While that may be the case, not many youngsters make it too far into the show. The competition has just been too steep in the past. However, this may be the year when we get to see a teen make it to the top. Kat Hammock won us over during the blind auditions when she delivered a chilling reprise of Billy Joel's Vienna. She continues to shine on the show week after week, as Hammock just survived the live playoffs recently. Whether you're rooting for this singer or not, here are 10 things that you should definitely know about her.
1. Still a teen
Hammock is currently 18 years old. We don't know exactly when her birthday is, but we know that she was born in the early 2000s. Hammock looks her age, but she sounds a lot more mature vocally. Even her song selections are out of time, and it's almost refreshing to hear. Kat still has a sweet and innocent quality to her personality, and that's one of the things we love about her.
2. Background
Hammock is no stranger to Hollywood fame. She was born and raised in Encinitas, California, and she comes from a tight-knit family. Her family consists of her father Rex, mother Maggie, and her siblings Mick and Rebecca. As can be seen on her social media pages, Kat seems close to her family. Having a good support system is something crucial to a successful career. From the looks of it, Kat is truly on her way and is unstoppable with the supporting cast cheering her on.
3. YouTube
Most aspiring artists today maintains a YouTube channel as a way to share their craft. YouTube offers artists a great platform to share their talents globally, and Kat Hammock definitely takes advantage of that opportunity. She has a YouTube channel to her name. Under her YouTube bio, Kat writes that she's a singer/songwriter. Her channel is something worth looking into, but it's one that easily gets lost in the sea of so many other singer/songwriter channels. If it weren't for The Voice, many people wouldn't have been able to discover Kat Hammock.
4. Singing start
People discover their talents all at different times. For Kat, it was the church choir that paved the way for her singing passion. She was only in fourth grade when it began to stir in her soul. Ever since then, Kat never really stopped since. She's continued to stay in pursuit of her dreams of one day becoming a great artist. She's committed to improving her vocals constantly, and it's something you can witness in her interactions with the coaches on the show.
5. Piano
We've known since the blind auditions how well Kat plays the piano. Her rendition of Vienna is still something we can't forget. What most of us didn't know, however, was how much time she devoted to practicing the piano in order to get where she is now. After discovering her love for singing, Kat wanted to write songs; and in order to do that, she needed to learn how to play the piano in order to provide an accompaniment to her songwriting. Let's just say that she's exceeded that and more.
6. Introversion
Kat is a self-described introvert. She certainly seems like it in front of the cameras, and she seems shy when talking to the coaches or any other people. However, the difference is noticeable when she sits behind the piano or stands behind a microphone stand. According to Kat herself, she's different when she's on a stage–when she's performing. It isn't something she intends to do but rather something that just naturally comes out. When Kat Hammock is performing, her personality changes. She becomes someone full of personality.
7. Musical styles
It seems clear that Kat does not belong to this generation. If she had been born just a couple of decades earlier, she would have fit right in. You can tell what a person is like by listening to their music. Kat Hammock happens to be a true music lover. She loves all types of music, but she naturally gravitates towards the music of the 60s and 70s. You can call her an old soul, and that she certainly is.
8. Billy Joel
There's no surprise here, but Kat Hammock is a big Billy Joel fan. Should we remind you again of her Vienna performance? It was one that Mr. Billy Joel himself would be proud of hearing. Kat takes inspiration from Billy Joel's songwriting, and she just loves his songs. We totally get it given that Billy Joel made his mark as one of the best singer/songwriters of our time. He's as talented as they come, and Kat has chosen a great artist to emulate and be inspired by.
9. Singles
She may be young but Kat Hammock has already accomplished quite a bit in her age. While balancing life, school, and her YouTube channel, she's also managed to release a couple of singles that you can purchase today if you wanted to. She released her first single in 2017 called "Legacy," and her second single was released just this year, "Anyone At All." Her songwriting skills are evident in both songs, and her unique style is also apparent.
10. Carnegie Hall
We just know that Kat Hammock is destined for greatness. She may have started like any other artists–on small venues and coffee shop gigs. But before she's even made it to The Voice stage, she had already performed at the Carnegie Hall three times. If that's not a sign of what's to come, nothing else is. Kat Hammock has a bright future ahead of her, and she's only started to step into that future. She's got more coming her way, and we can't wait to hear what she comes up with next.