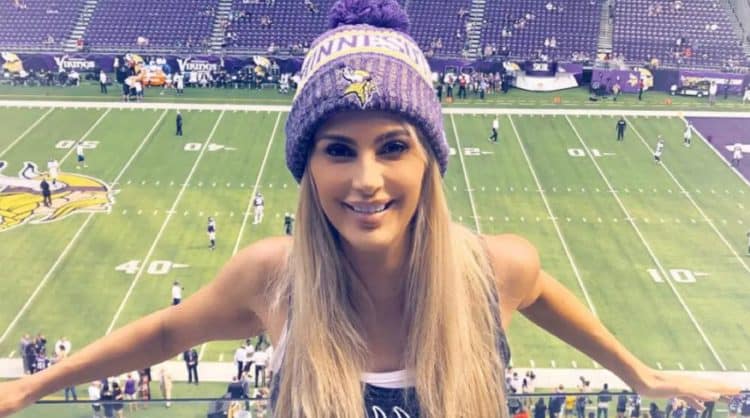 When most people take a break from social media, they tend to return without making much of a fuss. However, after a two year- hiatus from Instagram, Katarina Elizabeth Miketin came back with with a post that has lots of people talking. Rumors to be dating Michael Vicker, the head coach of the Minnesota Vikings, Katarina was already an internet star in her own right. She had a successful career as a model which translated into a massive social media following that includes nearly 450,000 followers. in her comeback photo, Katarina posed topless to let her followers know that her hiatus is over. Keep reading to learn 10 things you didn't know about Katarina Elizabeth Miketin.
1. She Was Featured In Sports Illustrated
These days, when you hear someone with a large social media following is a 'model' it's hard to tell whether or not they actually have professional modeling experience, or if they just model on Instagram. Katarina is a model who can say that she's the real deal. She's posed for several well-known publications over the years including Sports Illustrated and Maxim.
2. She Has An MBA
Katarina may be beautiful, but she also has the brains to back it up. She has a bachelor's degree in psychology from The College of St. Scholastica. While there she was also the president of The National Honor Society for Psychology. She then went on to earn an MBA from Northwestern University in 2015.
3. She Is Bilingual
Katarina is was born and raised in the United States, but her family's roots trace back to Serbia. She is very proud of her heritage and is very connected to the culture. According to her LinkedIn profile, she can speak Serbian although it's unclear whether or not she is fluent.
4. She Is A Mother
Katarina isn't the type of person to share too many intimate details about her personal life on social media, but we do know that she is a very proud mother. There doesn't seem to be much information floating around about her daughter, but in her Twitter bio Katarina mentioned that she is "Single Mother of a little girl who may be POTUS or just an awesome human."
5. She Has A Career In Finance
The MBA that Katarina earned has definitely gotten put to good use throughout her career. She has been working in finance for nearly two decades and has held high level positions at some very big companies. She is currently the Vice President of Middle Market Lending at Frandsen Bank and Trust.
6. She Loves To Stay Active
Katarina probably doesn't have much time to model professionally anymore, but she's still keeping her model body in tip-top shape. She loves to stay active and exercise is a big part of her regular routine. In addition to regular gym workouts she also likes to mix in other activities as well.
7. She Is From Minnesota
Many people automatically assume that Katarina lives in a place like Los Angeles, but she actually still lives in her home state of Minnesota. Katarina was born and raised in a small town in Minnesota called Duluth. According to the Census, the population of Duluth was just over 85,000 in 2019. Needless to say, even if the rumors about her dating Mike Zimmer aren't true, she's still a Vikings fan.
8. She Is Very Adventurous
Don't let Katarina's looks make you think that she's afraid to have fun and get her hands a little dirty. Growing up in a place like Duluth meant that Katarina spent a lot of time outdoors. As a result, she likes to do thinks like go snowmobiling, off roading, and jet skiing.
9. She Loves Fashion
Katarina has always been someone who enjoys expressing herself through her clothing. She has a great sense of style and likes to put together outfits for every occasion. Whether she's going to the gym, going to a football game, or enjoying a night out on the town, you can bet that Katarina is going to look her best.
10. It's Unclear Why She Took A Break From Instagram
In social media years, a two year hiatus might as well be 10 years. Katarina's return to Instagram was just as abrupt as her departure in 2018, but ironically, she didn't explain why she chose to take a break — or why she decided to come back. Regardless of her reason though, most people would agree that sometimes a break from social media is needed. Now that she's back, however, lots of people are hoping that she will drop some hints to confirm or deny whether or now she and Michael Zimmer are an item.