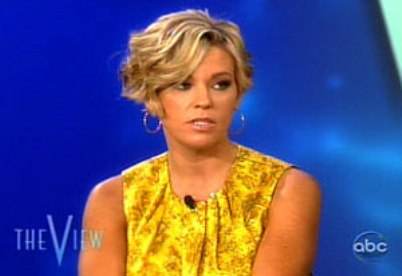 Have you no shame, Kate Gosselin? We've already been forced to watch your family be torn apart during that awful, public divorce between yourself and Jon. And now, even though Kate Plus Eight has been cancelled, we're still going to have to deal with you on television, with Dancing with the Stars. It's sad, really.
Kate Gosselin may call herself many things. Even if you look at her in the most positive of lights, she is not a star. She's a mother who appeared on a reality show. She's no more of a star than Matt and Amy Roloff (of Little People, Big World) or even one of her eight children, who will probably grow up with very little or no privacy due to the actions of their parents.
A source for Gosselin told RadarOnline that Gosselin was taking the spot on the show because she was trying to be a breadwinner for her family. "Kate's the kind of woman who will do whatever is necessary for her children," the source said. "It's great for her to be on the show, but she did it ONLY in a way that benefits her family."
Whatever Gosselin's motives are, it's sure that her appearance will be one of the big viewers draws of Dancing's upcoming season, which premieres on March 22.
Gosselin will be appearing on the ABC competition along with former 90210 star Shannen Doherty and NFL star Chad Ochocinco (who had his surname changed to reflect his jersey number). Pamela Anderson will also be a member of the cast, according to Maksim Chmerkovskiy, one of the show's professional dancers, who revealed that little item of news early.
If this great roster doesn't have you ready to jump right in and watch Dancing with the Stars, worry not: tonight's finale of The Bachelor: On the Wings of Love will contain ABC's official announcement of the lineup.