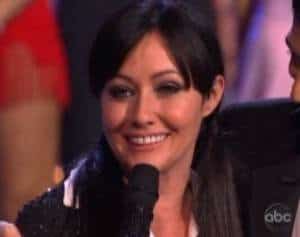 Kate Gosselin has stared down the barrel with an American hero on one side, and an even more notorious diva on the other, and somehow has managed to come out on top. Things were looking bleak after Kate's widely publicized blowout with professional partner Tony Dovolan, but at the end of it all the dramatics and scores – as usual – held little bearing in the final results. Shannen Doherty (90210) became the first Dancing With the Stars 'star' to be voted off. This wasn't entirely surprising, her performance was notably underwhelming. What was surprising is who else appeared in the bottom with Doherty: Pamela Anderson.
That's right, after all the hooplah over Gosselin's antics (which really, imho, were not that bad), Anderson – who got fairly decent reviews – failed to garner much viewer support. Given that she is one of the few to emerge with natural talent (the only thing about her that is natural), it is surprising that the home audience didn't vote for her. No doubt Pam's sordid past is a bit too much for Dancing With the Stars' white bread audience.
The fact that Kate Gosselin and Tony Dovolan stayed in the safe column despite embarrassing scores says something about the former reality Diva's potential longevity. I still see Kate as a favorite, but that is assuming a large segment of Dancing With the Stars audience have a special place for strong mother figures.
As for Shannen, she took being the first person voted off like a champ. "I think that dancing isn't really my thing I'm an actor and it's what I love to do and I did this for my dad and I did exactly what I wanted." Doherty admitted. If only she had figured that out before she signed up. Sigh.