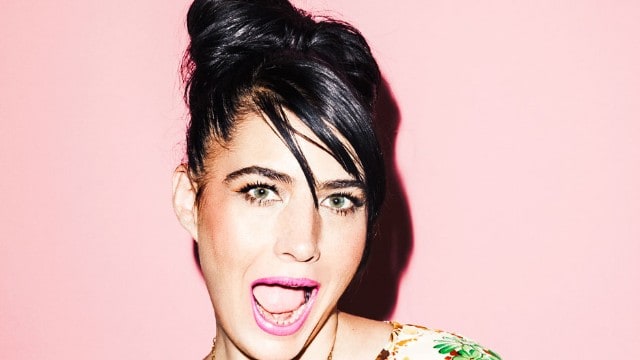 These days when someone says 'feminism' a lot of people are bound to look uncomfortable since third wave feminists, extremists a lot of times, have decided to take matters to a degree that seems to make a lot of people uncomfortable. Kathleen Hanna is one of those that can be credited with the rise of this movement and in a big way has been pushing a few narratives throughout the years that some people have a serious issue with. That being said though her heart is in the right place and she hasn't always been the type to actively get in a scrum about one issue or another as she prefers to be part of the crowd that's trying to advocate for a change. While that's all well and good on its own you can imagine that she's had a few issues throughout the course of her time in the spotlight since her ideas aren't evil but they're definitely different and as many people know anything different is going to be subjected to a great deal of scrutiny, not to mention a lot of abuse at some point.
Here are a few things about Kathleen you might not have known.
10. She became interested in feminism at the age of 9.
This isn't too surprising really since a lot of young women and kids are declaring themselves feminists these days at very young ages, even when they have to have the matter explained to them so that they can fully understand why it is that they're standing up for values and issues that they might not know that much about.
9. She moved around a lot as a child.
There are a lot of effects that moving so often can have on a kid when they're younger, not the least of which is having a tough time learning how to socialize with others since the moment you get close to someone you might be heading out of town again and need to do it all over again. Thankfully Kathleen seems to be a very social person and likely didn't suffer too much for this.
8. Her father didn't really approve of the feminist material that she and her mother enjoyed.
You've got to remember that she was living in a much different era than we have now when she was still a young girl and the men had a lot more power in the household at that point. While men still have a good deal of authority, the feminist movement has made it clear that it's not about to be the norm any longer, for better or worse.
7. She had an abortion at the age of 15.
This is likely kind of tough to talk about since any woman that's had an abortion isn't about to say that it was an easy decision no matter if they wanted kids or not. Those that can talk about it like it's nothing are usually those that have the hardest time relaying the fact or don't have a heart at all.
6. At one point she used to work at McDonald's.
A lot of people have had to work somewhere that's ridiculed by others at some point in their lives, and to be honest it does build character and reminds a person that they're no better off than anyone else.
5. She worked as a stripper to pay her college tuition.
Considering that her parents didn't go to college this was something that was a huge opportunity in her life, and to be fair when it comes to stripping she did her job and didn't get completely unethical about it as has been done in the past.
4. She did perform in a band for a while.
Kathleen was musically inclined, or still is you could say since this was included in part of her activism since she's been firmly for girl power for quite some time now. She's been a personality for a while now and been able to claim it rightfully.
3. Hanna is credited with helping to start third wave feminism.
She's likely one of the more prominent faces to the movement and one that would gladly take the credit for it when approached. In a way third wave feminism isn't entirely horrible, but it's been used in a very negative way by some people.
2. Apparently she had something to do with Nirvana's hit song Smells Like Teen Spirit.
It sounds like she spray-painted Kurt Cobain's wall with Kurt Smells Like Teen Spirit, something that the lead singer of the band took and ran with since it became one of their most popular songs.
1. She suffered from Lyme disease for 6 years.
Considering this is treatable by a medical professional it's kind of hard to figure why she lived with it for so long since it sounds so painful, but as Laura Snapes of Pitchfork has stated she did get it taken care of eventually.
In a way you either like her or you don't as a matter of personal choice.