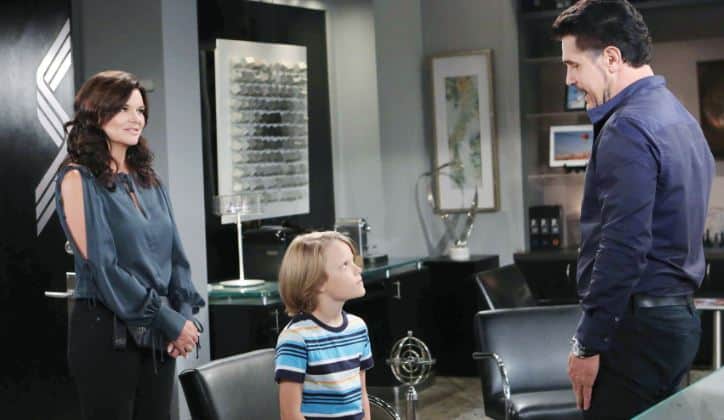 The Bold and the Beautiful fans are not surprised that things are seeming to work out right now with Bill and Katie. They might have been awful to one another in court last week, but they are suddenly a happy little family of three, and they seem to be getting along just as well as you might hope or expect parents in this situation will. We did get to see the three of them share a very pretty family moment as they bonded a bit over a conversation and some quality time together. This is what is best for this little boy, and we are happy to see them in this moment. However, we don't know that this will last with Thorne and Brooke on their case. They don't like it, and they want to see things get worse to suit their own agendas.
And Katie is really softening toward her ex-husband as she suddenly notices that he has some affection and kind words for their son. He may be stepping up to the plate and becoming a good father after all, and she's liking what she sees. Is this going to be a problem for her in her own marriage, and what will this do to her sister and her sudden quality time with Bill? Brooke is already off talking to the judge to find out what is going on with all of this, and it's not going to be a very good situation. And then there is the chance that Brook will find out the truth and take it upon herself to see if she can screw things up for everyone else – and we bet she can. She's good at getting into other people's business and making it a big mess for all of them. We don't doubt this.
What's Happening on The Bold and the Beautiful
Looks like Ridge got caught. #BoldandBeautiful pic.twitter.com/wK83gktIr7

— Bold & The Beautiful (@BandB_CBS) October 4, 2018
We just have to know how many fans are like "Brooke, You need to just back off, girl," when she goes out of her way to make everyone miserable? She likes to make life complicated for both herself and anyone else she possibly can, and we cannot figure out why. We'd like to see her take up a hobby of some sort to occupy her ample free time.
What's Next on the Bold and the Beautiful
Escape, love, and believe with #BoldandBeautiful weekdays on @CBS. 💙 https://t.co/3XO1GL4J05

— Bold & The Beautiful (@BandB_CBS) October 5, 2018
Brooke is not done with all that she feels is not right in her world. It's not even her world, either. She's still in the business of Bill and Katie's situation even though they seem to have worked things out on their own despite the ruling the judge handed down. But she's found out that her own husband suggested that the judge make a certain call, and she's not happy about it. She's gotten confirmation that this happened, and she's about to ask her husband about it. And we think that the term ask is a little nice for what she did. We think she's about to confront him about it, and he won't lie to her about it. He will tell her the truth, and she will then spend more time with Bill. She's got a bad situation on her hands, but she's not all that worried about it.
Katie is just as moved as ever by Bill when he shows their son some affection, and we wonder is he will have some way of getting back into her life by acting like this. We think he's in the market for Brooke at the moment, but Bill has never really been much of a one-woman man. And he might find it appealing to try and steal both women from their husbands since he does hate them both. But that would make things a bit more interesting. This is not something that we can handle, but we think it will make for some interesting television when it all goes down.
Stay tuned for more The Bold and the Beautiful and be sure to check out TVOvermind daily for the latest The Bold and the Beautiful spoilers, news, and updates.