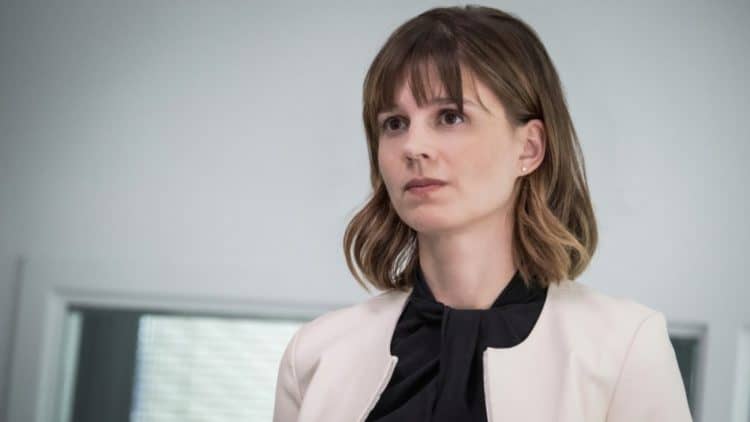 Having an acting career that lasts for decades isn't an easy thing to do, but Katja Herberts has found a way to do it. With nearly almost 20 years of experience as a professional actress, Katja's career is one that has included lots of success. Over the years, she's made dozens of on screen appearances. Many viewers may recognize her most from the HBO series, Westworld where she plays the role of Dr. Emily Grace. Katja's ability to portray a wide variety of characters has made her a valuable asset to the industry. Her talent has proven to be endless and she has a lot more to show the world. Continue reading for 10 things you didn't know about Katja Herbers.
1. Her Parents Are Musicians
Katja was born and raised in Amsterdam. She comes from a very artistic family. Her father, Werner Herbers, is a well-known oboist and her mother, Vera Beths, is a professional violinist. Both of her parents remarried to people who also worked in the entertainment/music industry.
2. She Speaks Five Languages
When Katja was younger, she had a Canadian au pair who helped her learn to speak English, Dutch, and German. She also speaks Spanish and French but not fluently. Katja has been traveling around the world since a very young age, so her ability to speak multiple languages hare definitely come in handy. On top of that, it can also help give her a competitive advantage in her acting career.
3. Her Step Mother Introduced Her To Acting
Being a step parent isn't always an easy role to play. Coming into an established dynamic and trying to forge new bonds can sometimes create tension. However, it was Katja's step mother, customer designer, Leonie Polak, was one of the people who first introduced her to the theater world.
4. She's A Singer
Acting is Katja's true passion, but as someone who comes from a very musical family, there's no surprise that she also has some singing talents as well. Although she hasn't recorded or released any original music, she has publicly performed the song "Im Wunderschönen Monat Ma".
5. She's Really Shy
Katja has always known that she wanted to be an actress, but she thought her natural shyness and introverted personality would hold her back. She says, "I knew from a very young age, but was afraid to tell anyone because I thought that if you wanted to be an actor, you must be incredibly vain. I struggled with that. I was shy and introverted and really not a "Hey, everyone look at me" kind of a person."
6. She's An Activist
Katja may not considered herself an activist, but that's exactly what she is. She has used her social media platform to speak out against issues surrounding racial injustice. Although she is not American, she has been very vocal in the fight against police brutality in the United States.
7. She Thinks Every Actor Should Watch Theater Productions
No matter how talented an actor is, the process of learning and getting better never goes away. While lots of actors like to take classes and attended workshops, Katja believes that one of the best ways for an actor to learn is to visit the theater and watch plays.
8. Her Biggest Mistake Was Being Unprepared
Katja has been in the industry for nearly 20 years, and in that time she's learned lots of valuable lessons. When asked about the biggest mistake she's made during her career, she said, "Not preparing enough—I now know I have to know something very thoroughly in order to let go of everything and let things happen in the moment."
9. Her Worst Audition Involved An Awkward Interaction With Apple Sauce
Every actor has a story about an audition that went horribly wrong, and Katja's is actually hilarious. She told the story in an interview with Backstage: "When I was 19, I went to New York to study at Uta Hagen's HB Studio. There was an exercise where they made us go to a museum, pick out a portrait, and imagine the life of the person portrayed. I picked out a Diane Arbus photograph and did an improv of her setting the table for dinner very lovingly and precisely, but nobody showed up, and she ended up taking the applesauce can and rubbing it on her face. The response I got was amazing…When I was back in Holland auditioning for the Theaterschool, I had to do an improv and I thought, Great, I'll do my applesauce number and blow them away. I did it and got called into the artistic director's office. He said he really wanted to give me a chance and would admit me into the first year of school if I promised to never ever, ever do that applesauce bit again. They thought it was absolutely horrendous.
10. She Studied Psychology
Being an actor always been Katja's dream, but when she went off to university she chose to study psychology instead. However, acting was never completely out of her life. She got involved with local theater groups while in school and eventually started landing roles.